At WT Wealth Management growing your account value isn't our only concern. As financial advisors we wear a variety of hats and we want to make sure you understand your entire financial picture. Annual tax credits that lessen your tax burden are an important part of this. Our WT tax specialist, Marina Karpoukhina, provided the information charted below regarding 2018 Arizona tax credits available to Arizona residents. These credits provide for an actual reduction of tax, not just a reduction of taxable income. Marina strongly advises contributions be made prior to year-end.
Charitable Tax Credit
Foster Care Tax Credit
Credit for Contributions Made or Fees Paid to a Public (and Charter) School
Other Arizona Credits are available and may apply (Energy Credit for example). For more information please see the Arizona Department of Revenue Tax Credits webpage
Contributions can include one or more of the noted tax credit opportunities.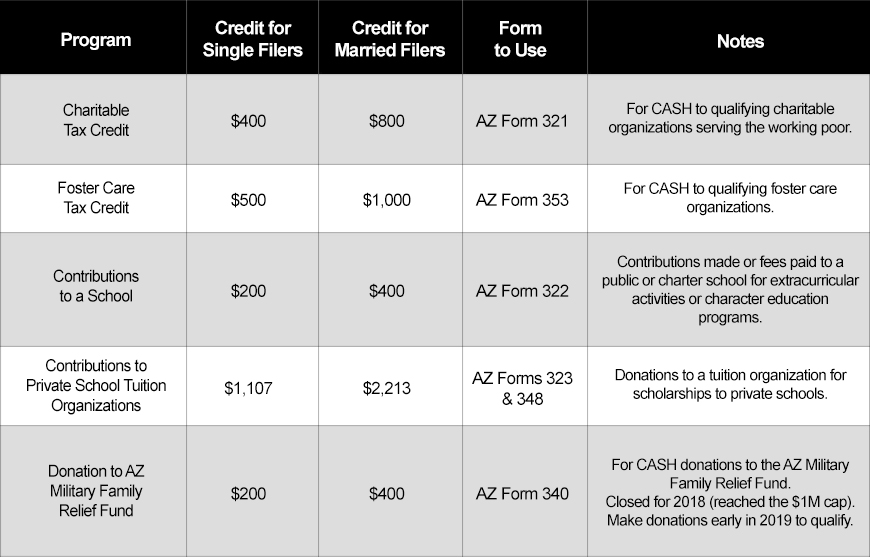 Of course, there are many more details to consider when determining how these tax credits apply to your specific situation. Marina is available to all WT Wealth Management clientele to answer those questions or for any other tax related service. She can be reached at:
1.800.825.0616
or
1.928.225.2474
or email:
marina@wtaccounting.com