Record Volatility in March
March was the single most volatile month in the history of the S&P 500 with an average daily price movement of +/- 4.8%. In the 22 trading days in March only 1 day resulted in less than a 1% move – March 19th.
Volatility means dramatic moves in both directions – positive and negative. Below is a day by day snapshot of the daily price returns of the S&P 500 during March that resulted in the 12.51% drawdown for the month.
Chart #1
(1)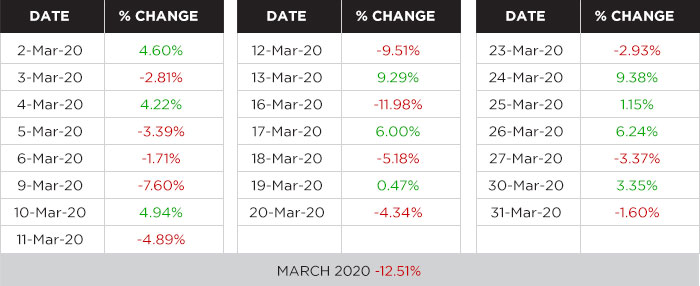 To put March's daily price return average of +/- 4.8% in historical perspective, the chart below shows average daily price returns by month going back to 1928. No single month in history reached the level of March 2020. The next most volatile months on record, at +/- 3.9%, were November 1929 and October 2008.
Chart #2
(2)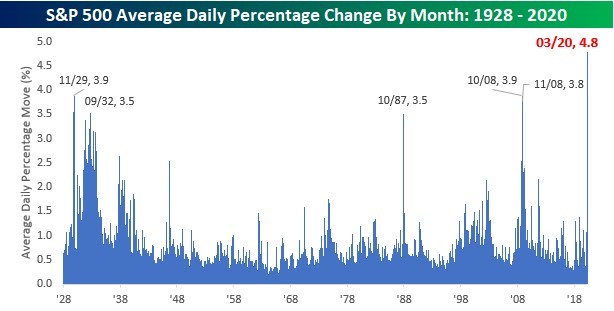 Revisiting "Missing the 10 Best Days"
The best trading days often come on the heels of the worst trading days. The temptation is strong for investors to bail out of the markets as they reach a capitulation point. Inevitably, the result is not the savings and protection they intended, but rather simply missing out on those best trading days that follow declines.
The following chart, from Fidelity Investments, explains why a client should stay committed to their long-term plan. From January 1st 1980 through December 31st 2019, missing the best 5 trading days would have cost an investor nearly $250,000 and the 10 best days $366,659.
Chart #3
(3)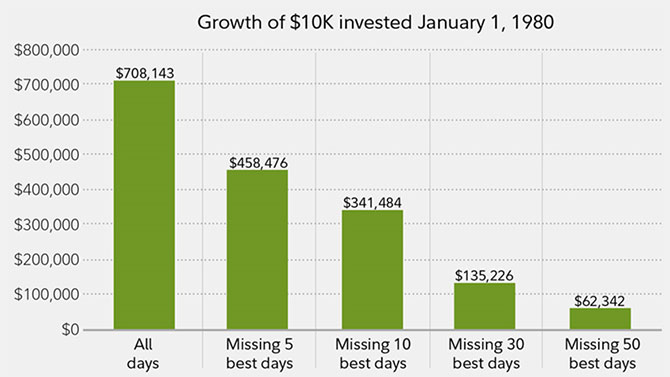 Recently, a few investors may have reached their personal capitulation point on or around March 23rd, when the S&P 500 descended to a YTD low of -34% – a very natural reaction to the most dramatic fall of the S&P 500 in our lifetimes. However, an investor that moved to cash around that time would have missed the subsequent 25% rally from March 24th to April 16th. More commonly than not, an investor won't have a better return opportunity available than simply staying in the market and patiently waiting to participate in the recovery.
Conclusion
As Mike Tyson famously said, "everyone has a plan until they get punched in the face". The key to being a successful investor is to understand your risk tolerance, put an investment plan in place with your advisor, and then stick with the plan through good times and bad. This is the essence of what we do for you at WT Wealth Management. March was our punch in the face. While knees buckled, investors who stayed with the plan captured the subsequent bounce. Those investors who went to the mat, by moving to cash, realized their losses and missed the opportunity provided by the bounce.
Understanding and determining your proper asset allocation model needs to be done well ahead of a market sell-off, otherwise too much raw emotion will affect your decisions. Investors that stayed committed to their pre-established plan may certainly be down 10% YTD, but now an 11% return will return that investor to even. WT Wealth Management has dozens of risk-based, diversified strategies to meet your needs – something for everyone.
Keeping you calm and on plan is as important to your advisor at WT Wealth Management as asset allocation or security selection. We take all of our responsibilities very seriously. Please reach out anytime you have a question, need a reassuring word or simply want to talk. We are here for you.
Sources:
(1)
https://www.investing.com/indices/us-spx-500-historical-data
(2)
https://investingmatters.co.za/worst-q1-ever/
(3)
https://www.thesimpledollar.com/investing/stocks/tempted-to-sell-missing-just-a-handful-of-the-best-stock-market-days-can-tank-your-returns/

WT Wealth Management is an SEC registered investment adviser, with in excess of $100 million in assets under management (AUM) with offices in Flagstaff, Scottsdale, Sedona and Tucson, AZ along with Jackson Hole, WY and Las Vegas, NV.

WT Wealth Management is a manager of Separately Managed Accounts (SMAs). With SMAs, performance can vary widely from investor to investor as each portfolio is individually constructed and managed. Asset allocation weightings are determined based on a wide array of economic and market conditions the day the funds are invested. In an SMA, each investor may own individual Exchange Traded Funds (ETFs), individual equities or mutual funds. As the manager we have the freedom and flexibility to tailor the portfolio to address an individual investor's personal risk tolerance and investment objectives - thus making the account "separate" and distinct from all others we manage.

An investment with WT Wealth Management is not insured or guaranteed by the Federal Deposit Insurance Corporation (FDIC) or any other government agency.

Any opinions expressed are the opinions of WT Wealth Management and its associates only. Information offered is neither an offer to buy or sell securities nor should it be interpreted as personal financial advice. Always seek out the advice of a qualified investment professional before deciding to invest. Investing in stocks, bonds, mutual funds and ETFs carries certain specific risks and part or all of an account's value can be lost.

In addition to the normal risks associated with investing, narrowly focused investments, investments in smaller companies, sector and/or thematic ETFs and investments in single countries typically exhibit higher volatility. International, Emerging Market and Frontier Market ETFs, mutual funds and individual securities may involve risk of capital loss from unfavorable fluctuations in currency values, from differences in generally accepted accounting principles or from economic or political instability that other nations experience. Individual bonds, bond mutual funds and bond ETFs will typically decrease in value as interest rates rise. A portion of a municipal bond fund's income may be subject to federal or state income taxes or the alternative minimum tax. Capital gains (short and long-term), if any, are subject to capital gains tax.

Diversification and asset allocation may not protect against market risk or investment losses. At WT Wealth Management, we strongly suggest having a personal financial plan in place before making any investment decisions including understanding personal risk tolerance, having clearly outlined investment objectives and a clearly defined investment time horizon.

WT Wealth Management may only transact business in those states in which it is registered, or qualifies for an exemption or exclusion from registration requirements. Individualized responses to persons that involve either the effecting of transactions in securities, or the rendering of personalized investment advice for compensation, will not be made without registration or exemption. WT Wealth Management's website is limited to the dissemination of general information pertaining to its advisory services, together with access to additional investment-related information, publications, and links.

Accordingly, the publication of WT Wealth Management's website should not be construed by any consumer and/or prospective client as WT Wealth Management's solicitation to effect, or attempt to effect transactions in securities, or the rendering of personalized investment advice for compensation, over the internet. Any subsequent, direct communication by WT Wealth Management with a prospective client shall be conducted by a representative that is either registered or qualifies for an exemption or exclusion from registration in the state where the prospective client resides.

A copy of WT Wealth Management's current written disclosure statement discussing WT Wealth Management's registrations, business operations, services, and fees is available at the SEC's investment adviser public information website (www. adviserinfo.sec.gov) or from WT Wealth Management directly.

WT Wealth Management does not make any representations or warranties as to the accuracy, timeliness, suitability, completeness, or relevance of any information prepared by any unaffiliated third party, whether linked to WT Wealth Management's web site or incorporated therein, and takes no responsibility therefor. All such information is provided solely for convenience purposes and all users thereof should be guided accordingly.