Many economists, market-watchers and pundits are postulating that the peak of economic uncertainty occurred in the first half of 2022. However, over the coming months, the markets are likely to continue feeling the weight of slower economic growth coupled with tightening Federal Reserve policy.
The Rock – Slower Economic Growth
In last Thursday's, July 28, highly anticipated data release, the Commerce Department reported that U.S. economic activity for Q2 2022, as measured by U.S. Gross Domestic Product (GDP), contracted at an annualized rate of 0.9%. Economists surveyed by Bloomberg had expected data to show the U.S. economy would grow at an annualized pace of 0.4% last quarter.
(1)
The Q2 2022 decline in GDP comes after U.S. economic activity fell 1.6% during Q1 2022. Two consecutive negative GDP prints is generally regarded as the simplified, rule-of-thumb definition of a recession.
In our opinion, the shallowness of these two consecutive drawdowns is extremely encouraging. While it may have produced the "technical" definition of recession, we feel it more accurately reveals a "soft-landing" the Fed has been trying to orchestrate. If unemployment stays below 5%, we think the Fed may be able to deliver on their soft-landing promise.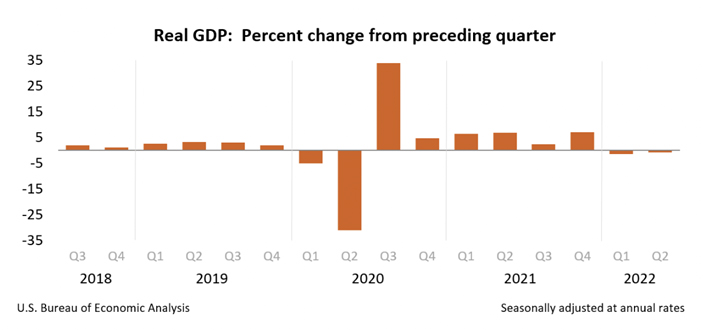 https://www.coindesk.com/markets/2022/07/28/gdp-falls-further-in-q2-fueling-recession-discussions/
The Hard Place – Tightening Federal Reserve Policy
If the Q2 2022 GDP report last Thursday was the most anticipated data release, you could say the culmination of the two-day Fed meeting that ended last Wednesday could be classified as next in line.
On Wednesday, July 27, the Federal Reserve enacted its second consecutive 0.75% interest rate increase as it seeks to tamp down runaway inflation without creating a recession. The moves in June and July, taking the benchmark overnight borrowing rate up to a range of 2.25%-2.5% (its highest level since December 2018), represent the most aggressive consecutive action since the Fed began using the overnight funds rate as the principal tool of monetary policy in the early 1990s.
While the fed funds rate most directly impacts what banks charge each other for short-term loans, that same rate feeds into a multitude of consumer-focused products such as home mortgages, auto loans and credit cards.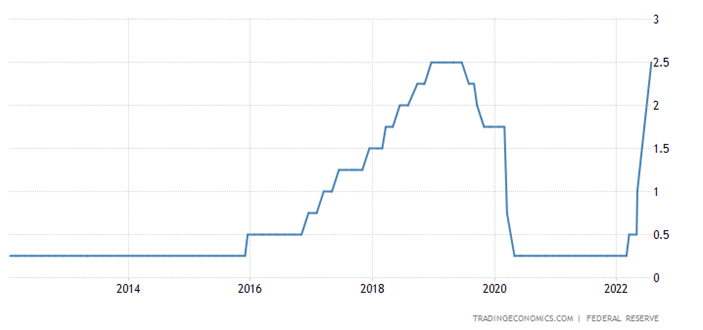 https://tradingeconomics.com/united-states/interest-rate
Heading into the year, we had forecast rising interest rates, falling bond prices and increased volatility in nearly every asset class, which proved to be accurate. However, we didn't expect it to happen as rapidly as it did. The war in Ukraine sent energy prices spiking as supply-chain problems persisted longer than expected, causing inflation to push higher. Ultimately, the Federal Reserve was forced into a much more aggressive tightening campaign that any of their previous estimates showed.
At the start of the year, markets were pricing in three 25bp Fed Fund Rate (FFR) hikes for all of 2022. At the recent peak on June 14th, Fed Fund Futures were pricing in twelve 25bp hikes. Over the first half of 2022, the 10-year U.S. Treasury Yield rose as much as 2% from 1.51% to 3.50%, while the national 30-year fixed-rate mortgage nearly doubled from the low 3% level to over 6%. The Bloomberg U.S. Aggregate Bond Index declined 11% in the first half of 2022. In the prior 45 years dating back to 1976, it has only had four annual declines, with the steepest being 2.9% in 1994.
(2)

As with any tightening cycle, the goal is to slow down economic growth by choking off demand. Based on past tightening cycles, the odds are against the Fed achieving a soft landing. While the Fed believes that it will be able to avoid recession, in 12 major tightening cycles since 1954, the Fed only managed a soft-landing (i.e., avoided recession) on three occurrences: 1965, 1984, and 1994.
(3)
However, the chances of a soft landing may be better than average this time around if GDP drawdowns remain below 2.0% (1.6% for Q1 2022 and 0.9% for Q2 2022 so far).
To be clear, we are supportive of the Federal Reserve's actions and wish, with the benefit of 20/20 hindsight, that the Fed had acted sooner. The Fed acted too late to normalize interest rates, keeping them low for too long as the unexpected Delta and Omicron variant scared everyone into thinking additional economic shutdowns were not 100% behind us. At this point, persistent inflation is likely to be more destructive than a shallow recession.
Providing a glimmer of hope that the Fed is "potentially past the halfway point in their tightening cycle," Fed Chair, Jerome Powell, left the door open about the Fed's next move at the September meeting, saying, "As the stance of monetary policy tightens further, it likely will become appropriate to slow the pace of increases while we assess how our cumulative policy adjustments are affecting the economy and inflation."
(4)
In other words, "it will now depend on the data."
How Did We Get Here?
In response to the COVID-19 pandemic that began in March 2020, the U.S. economy benefited from an epic injection of liquidity, with trillions of dollars entering the U.S. economy under the direction of the Federal Reserve and Congress. This included direct checks to most Americans, PPP and EIDL loans to businesses, enhanced unemployment benefits and even stays on rents, mortgages and student loans.
With reduced or restricted travel, recreation, concerts, movies, sporting events (and associated betting), dry cleaning bills, eating out and commuting, the American consumer had an unprecedent amount of money to spend or save, which kept the economy afloat (even if somewhat artificially).
That infusion of government cash, coupled with persistent challenges in many facets of the supply chain, and geo-political disruptions such as the Russia/Ukraine war, have produced an inflation rate at its 40-year high. In reality, where we are now was an inevitability – more a question of when rather than if. The Fed has little choice but to adopt an aggressive tightening stance to try to rein in inflation.
The markets, which boomed during the period of government infusion, have naturally responded bearishly to the economic slow-down and policy tightening. The S&P 500® index was down 19.96% year-to-date as of June 30th. Many of the individual stocks that make up the S&P 500® index had been in bear status for months prior.
Beyond the Rock and the Hard Place
Many experts feel these first half hurdles should moderate in the second half of 2022. Returns should improve for fixed income investors now that interest rates have been reset at higher levels, while the pace of rate hikes may now begin to slow based on Chair Powell's recent comments. The first six months of 2022 had the worst returns for a bond investor since 1994 – truly historic – as the Aggregate Bond index was down just over 10% and the usually safe-haven 60/40 portfolio lost 15.98%.
The stock market is a forward-looking mechanism – more barometer than thermometer – and usually sells off before a recession officially arrives and starts the recovery before a recession officially ends. This is precisely the reason why market timing is nearly impossible. If one or two of these first half hurdles fall (e.g., inflation begins to decline, the Russia/Ukraine war reaches a resolution, etc.) the markets could move dramatically higher in a few trading sessions. Anyone on the sidelines will have missed a measurable rally.
All that being said, short, sharp rallies within an underlying downward trend are typical of bear markets, so investors should be prepared for the possibility of continued volatility. This is not a market environment likely to reward excessive risk-taking.
At WT Wealth Management, as always, we continue to emphasize the importance of a diversified portfolio, well-balanced across and within asset classes, managed according to a risk profile consistent with your goals, and following the discipline of regular rebalancing. The professionals at WT Wealth Management are here to educate and to help. Please stay in touch.
Sources
In a future White Paper we will discuss the full definition of recession, the types of recession and the types of recoveries that end recessionary periods.