U.S. Economy Grew at a 2.6% Annual Rate in Q4 2018
Gross Domestic Product (GDP) - the broadest measure of goods and services produced in the United States - grew at a 2.6 percent annual rate in the fourth quarter of 2018 (Q4 2018) according to a first estimate released by the Commerce Department on February 28th. That marks a measurable slowdown from the middle of 2018, when GDP fueled by the initial impact of the tax cuts and government spending increases, briefly pushed GDP growth rates to 4.1 percent in Q2 and 3.4 percent in Q3.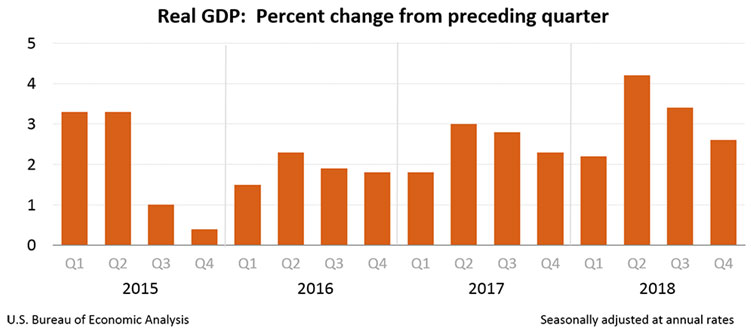 It's important to keep the seemingly cooling economy in perspective.
Tellingly, Q4 2018 GDP topped estimates from economists surveyed by Dow Jones, who had predicted a gain of 2.2 percent.


For the year, annual 2018 real GDP increased by 2.9 percent its strongest annual gain since 2015 when US GDP also measured 2.9 percent. 2018, as a whole, was among the best years of the decade-long recovery from the Great Recession.


Lastly, most economists do not expect a recession this year, putting current expansion on track to become the longest on record.
The most recent quarter's growth came in spite of a bevy of global economic uncertainty and at a time when the stock market briefly slid into bear market territory. Weakness in residential fixed investment, which fell 3.5 percent, and state and local government spending also served as a drag. Other headwinds included: increasing worries that a global slowdown would affect the U.S, the battle of political wills that resulted in the government shutdown, and heightened geopolitical squabbling and trade wars. All the while, investors worried that the Federal Reserve would continue to raise interest rates even as financial conditions tightened. This triggered one of the worst market sell-offs in nearly a decade.
Contributors to growth included: a 2.8 percent rise in consumer spending along with increased nonresidential fixed investment, exports, private inventory investment, and federal government spending. Further fueling the expansion is unemployment that remains at generational lows, hovering around 4 percent, with over 7 million positions going unfilled along with wages rising at the fastest clip of the current recovery.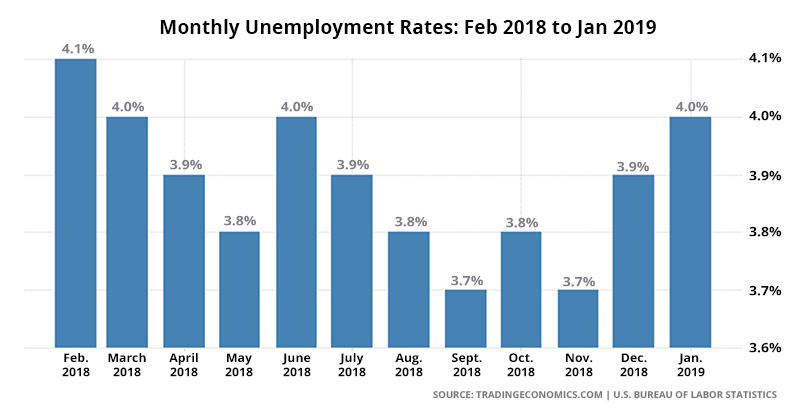 Many economists believe 2019 is off to a sluggish start, expecting growth to drop below 2 percent in the first quarter. Quarter one is historically the weakest quarter of the year as consumers wrangle with holiday shopping bills and the uncertainty of tax season.
This decline in the growth rate can be further attributed, in part, to the partial government shutdown, which began in December and extended through most of January. The government shutdown also had another effect: delaying the release of governmental data, including the GDP report itself, which came out a month later than usual. That delay has made it harder for forecasters and policymakers to keep tabs on the economy at what could turn out to be a pivotal moment.
Future catalysts that could aid growth include:
A resolution to the White House's wrangling with China over trade. Official reports are positive about coming to terms on the broad aspects of an agreement through ongoing meetings. Further positive reports and rumors about higher-level negotiations ahead of a potential trade summit to finalize and sign the accord are signs that a resolution is approaching.


The Federal Reserve appears to have now adopted a less aggressive stance and will be more "data dependent" when planning their future moves. Sluggish GDP reports will only aid in keeping them on the sidelines from their stated goal of "interest rate normalization".
In our opinion the economy remains strong and the current expansion remains intact as highlighted by the most recent GDP report. All of this is good news for American workers and the US economy.