U.S. Economy Grows at a 3.2% Rate in First Quarter
The US Commerce Department reported last Friday, April 26th, that US GDP grew at a rate of 3.2% for the first quarter 2019 on an annualized basis.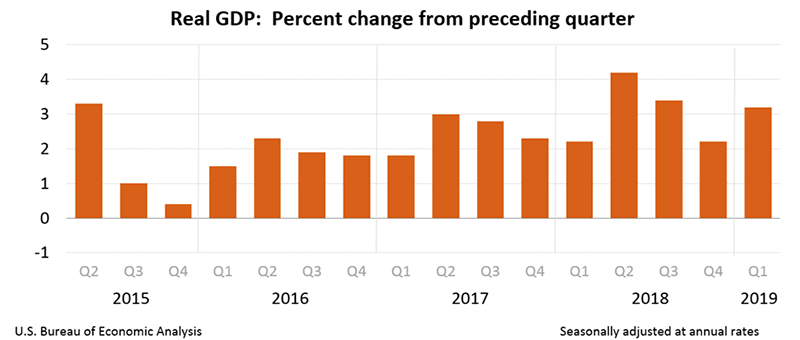 Economists warned that the report was likely inflated by short-term factors and probably overstated the underlying pace of growth. (Friday's figures are preliminary and will be revised at least twice in the months ahead.) But for now, this seems to indicate that the 10-year recovery retains momentum, despite recent fears that the economic year was off to a slow start.
Big Picture
To paraphrase Mark Twain, "rumors of [the economic expansion's] death appear to have been greatly exaggerated." The acceleration in growth in the first quarter is all the more remarkable considering the doom and gloom that surrounded the first-quarter outlook in December. Before the New Year began, the Atlanta Fed's "now-cast" model projected 0.5% growth and the flattening of the yield curve was fueling talk of recession. The partial government shutdown, which limited economic data, added to unease.
We continually remind clients that recessions are a natural and necessary part of the business cycle. With the job market still strong and consumers confident, fears of an immediate recession appear to have been set aside. Further, economists think the strong gain in retail sales in March bodes well for second-quarter growth.
Slower Growth Ahead
The first-quarter growth figure was inflated by a buildup of inventories and by a steep decline in imports. (Imports count as a negative in GDP accounting, so a decline in imports makes growth look stronger. Exports, which add to GDP, rose significantly.) Next quarter, the pattern could reverse: Inventories are likely to shrink and imports to grow, pushing down overall GDP growth even if the underlying economy is essentially unchanged.
Businesses still seem wary, as business investment slowed in the first quarter. The miniboom in manufacturing that greeted President Trump's first two years in office also appears to be fading. That caution may reflect nervousness about how long the economic expansion, already among the longest on record, can last.
Consumers Re-Emerge
But if businesses were hesitant, consumers were quick to put the winter winds behind them. Consumer spending has been the bedrock of the recovery, fueled recently by generationally low unemployment. So economists were nervous when spending tumbled unexpectedly in December and failed to rebound in January. In our opinion, that was a result of the bitter government shutdown the country endured. Since then, things have looked better. Consumer confidence, which fell sharply in December and January, quickly recovered once the shutdown ended and financial markets stabilized. Retail sales bounced back strongly in March.
The net result, overall consumer spending was weaker in the first quarter, rising at just 1.2 percent. However, the quarter ended on a good note, and most economists see little reason to worry looking ahead.
Conclusion
Economists do expect growth to slow this year, as the effects of tax cuts and government spending increases fade. Nervousness has abated from the end of last year, when markets were in turmoil, trade tensions were flaring and the Federal Reserve seemed focused on substantially higher interest rates.
Most "street" economists had 2019 GDP in a range between 2.1-2.4%. We agree that the 3.2% annualized rate announced last week may be overstated, but we could envision GDP more in the 2.5 - 2.8% range, full year... a good sign for the economy.