Welcome to October
We're through the first weekend in October. Stocks began the month down enough that investors have taken notice and are beginning to wonder if we will see a repeat of last year's fourth quarter decline. The S&P 500 fell 2.99% over the first two days of October - the index's worst two-day start to an October since 2008.
Research by Bespoke Investment Group found that the only other times we've seen the S&P 500 benchmark index drop more than 2% to start the fourth quarter were in 1934, 1935, 2008, and 2009.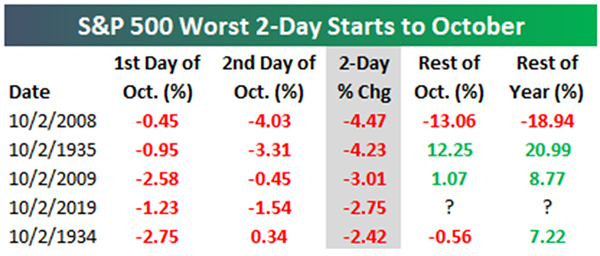 However, this is some very narrow quantitative history. Obviously every year is different. The market has no memory.
JP Morgan Asset Management produces a very instructive chart about market selloffs. By doing away with the calendar months, the chart highlights that in any given year, a selloff should be expected. It also clearly shows that selloffs can, and often do, happen during years that ultimately see stocks finish higher.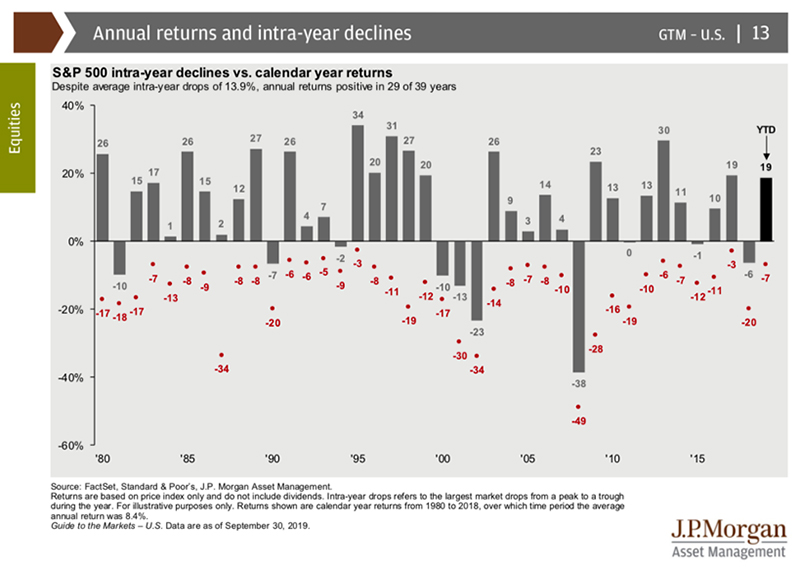 Despite approaching 14% average for intra-year drops (meaning a decline during the course of a calendar year), annual returns were positive in 29 of the past 39 years. So this chart is the visual representation of saying that stocks usually go up.
Simply said, selloffs are not unusual. It's just part of the experience of being an investor in equities. In a year like 2019, with the S&P 500 up over 20% YTD, it is easy to forget that the index was down 6.5% in May of this year. Down months are part of the investment experience. But if you stay focused on the horizon, the path underfoot will seem a lot smoother.
Considering the geopolitical noise within our country: a trade and tariff war like we have rarely seen before, growing tensions in the Middle East, inverted yield curves, a somewhat slowing economy and an upcoming Presidential Election in 2020, we should expect market volatility to be par for the course. We have seen countless challenges since 1957, when the S&P 500 was first established, but a patient and persistent investor has been consistently rewarded by an average annual return just shy of 8% - 7.96% to be exact.
Getting back to our October experience, early month selloff history isn't all that gloomy. After Tuesday's 1.2% selloff in the S&P 500, Bespoke Investment Group published some encouraging research on what follows after volatile 1st trading days of October. Since 1928, (and not including this year's decline), there have now been 13 instances of the S&P falling by more than 1% on the first trading day of October. In those instances, the S&P has gained an average of 3.75% for the rest of October. Looking at the entire fourth quarter, the S&P has been up 12 out of 13 times after a 1% decline on the first trading day of October for an average gain of 7.22% through year end. Investors would certainly take a 1% decline today if it meant 7%+ gains through year-end.
That's history for you. It's never a guarantee, but it can be instructive.
As always following a quarter end, performance reports have been posted to the WT Wealth Management client portal for your review. Please contact me if you need assistance logging into your portal or if you have questions following the review of your results. If you feel it would be beneficial to visit on the phone, please do not hesitate to contact me at
800.825.0616
or at
480.589.7522
.
Sincerely,
John Heilner
Sources
https://finance.yahoo.com/news/stock-market-october-selloffs-101926092.html
https://twitter.com/bespokeinvest
https://am.jpmorgan.com/us/en/asset-management/gim/adv/insights/guide-to-the-markets
https://www.investopedia.com/ask/answers/042415/what-average-annual-return-sp-500.asp