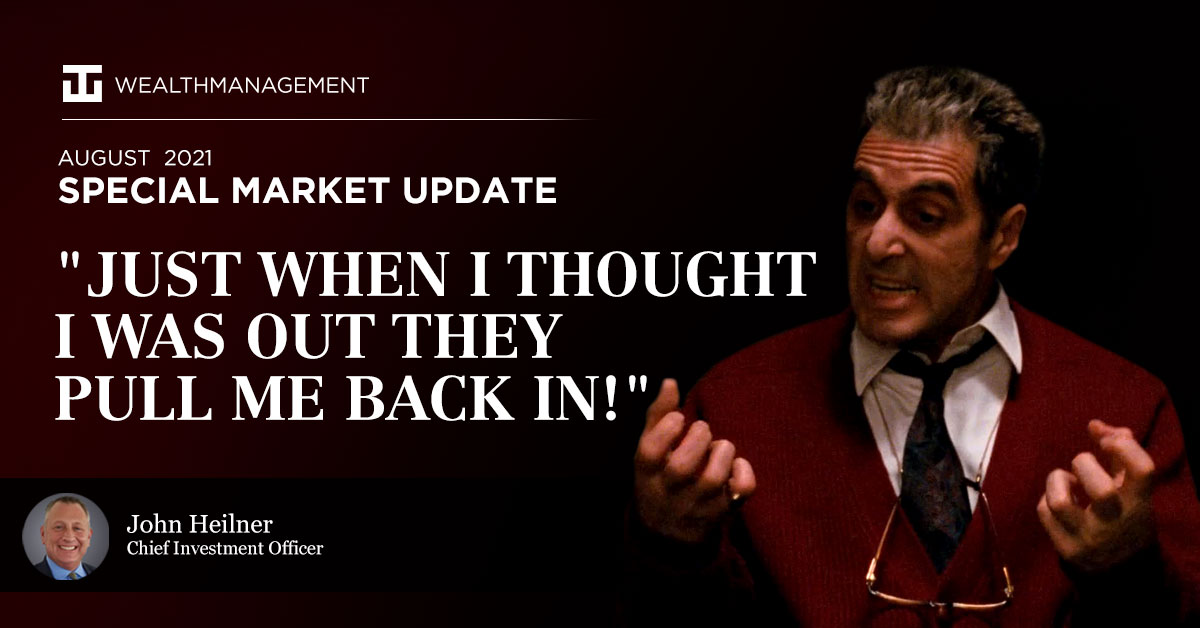 July was dominated by headlines of the new and more contagious Delta variant of COVID-19 making its way around the globe, including the US. Like Michael Corleone lamented in the Godfather III, "just when I thought I was out they PULL me back in!"

In fact, on July 27th, the Centers for Disease Control and Prevention, in a reversal of its earlier position, revised guidance on wearing masks and is now recommending that even fully vaccinated people wear masks indoors in areas where the virus is circulating widely. This move comes as the highly transmissible Delta variant fuels a surge in cases around the country (including evidence of transmission by vaccinated individuals). Several cities - including Los Angeles, St. Louis, and tourism-centric Las Vegas - have reinstated indoor mask mandates.

WT Wealth Management believes a continuation of concerning headlines about the COVID-19 Delta variant potentially sets the stage for a bumpy stock market over the next several months. While Delta variant concerns cloud the near-term picture, our base case remains a rising stock market trend over the next six months, albeit with some additional volatility.

The most obvious investor concerns are that economies could be forced to close once again due to rising infection rates. At the very least, economic recovery could stall even if more moderate restrictions are reimposed. Many industries (i.e., travel, hospitality, entertainment and leisure) still have not fully recovered and further restrictions could be their death knell, along with their employees.

The Delta variant threat is also one factor contributing to falling bond yields over the past month to what some would call ridiculously low levels. For example, the benchmark 10-year Treasury yield reached 1.24% to end July, well below the 1.48% yield at the beginning of the month.

Traditionally, as the economy expands, the Federal Reserve raises interest rates and tightens lending conditions in an effort to curb inflationary pressures as demand for goods and services accelerates. Changing interest rates is one of the key tools the Fed can use to keep inflation in check. Yet today, the 10-year treasury rate is falling back towards its historic low at a time when the US economy is forecasted to grow 6-7% in 2021 and 4-5% in 2022. The Fed's response, or rather inaction, to this economic situation runs contrary to historic Federal Reserve behavior.

This inaction is explained by the fact that up to this point, inflation has been chalked up as largely transitory. After early "pent-up-demand" subsides, many economists feel inflation should abate and the Federal Reserve would then still be on target to achieve their dual mandate of full employment and price stability. If the Delta variant is merely a blip on the radar, but causes the Fed to remain unsure about future economic growth and the resulting economic recovery, they may just wait too long to act on inflation, hindering their ability to control it.

WT Wealth Management believes that the Delta variant will be managed and inflationary pressures will fade as pent up consumer demand dissipates and the Back-to-School and Holiday shopping seasons pass into history. We also expect vaccine adoption rates to continue improving globally. Conservatively, we will be in early 2022 by the time all of that comes to pass. Nonetheless, we forecast a steadily expanding economy, allowing the Federal Reserve to slowly increase rates.