In mid-March, the Federal Reserve showed clear resolve in its commitment to fight inflation. Not only did the Central Bank raise interest rates by 0.25%, it additionally signaled six more hikes in 2022 and another four in 2023—a more hawkish direction than many predicted.
(1)
But whether the Fed will succeed in guiding the economy to a soft landing is less clear as it typically takes 6-8 months to fully understand the effects of a rate adjustment in the economy. A "soft landing" can be defined as an attempt to restrict economic expansion in an effort to slow the economy, thus taming inflation, without dipping the US economy into a recession (defined as two consecutive quarters of negative GDP).
GDP Declines
On Thursday, April 28th, many were surprised with the announcement that U.S. GDP fell by 1.4% during Q1 2022 – nearly 2.5% below expectations of a 1% gain. A plethora of factors conspired to weigh against growth during the first 3 months of 2022, including rising Omicron infections, surging inflation (at a level not seen since the early 1980s), the Russian invasion of Ukraine, a deceleration in private inventory investment, and slowing government spending on defense, federal, state and local initiatives.
Conversely, consumer spending held up for the quarter, rising 2.7% as inflation kept pressure on prices. However, a burgeoning trade deficit helped shave 3.2% off growth as imports outweighed exports.
(2)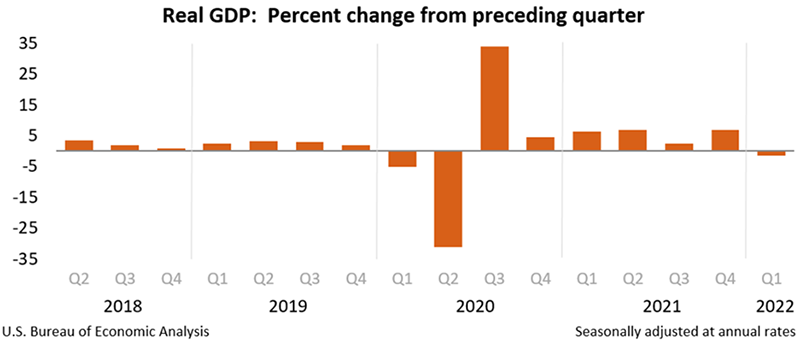 https://tradingeconomics.com/united-states/gdp-growth
Inflation Continues
The most recent Consumer Price Index (CPI) report was released on Tuesday, April 12th and prices that consumers pay for everyday items surged in March 2022 to 8.5% – their highest level since the early '80s according to Labor Department data. Excluding food and energy, the CPI increased 6.5%, in line with the expectation.
(3)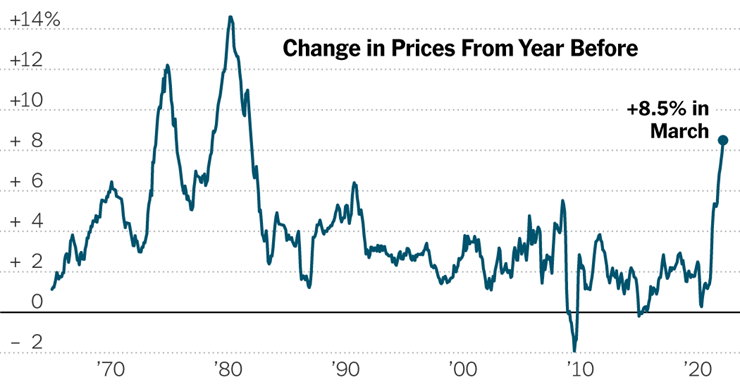 https://www.nytimes.com/live/2022/04/12/business/cpi-inflation-report
Ample Cash Stores
Over the past 14 years, since the 2008-2009 financial crisis, borrowing costs and inflation have both stayed incredibly low. Borrowing has not been a major inflation driver recently, so hiking rates—and making it more expensive to borrow—may have limited effect on slowing demand.
The personal savings rate — the share of after-tax income that is invested or saved rather than spent — topped 33% in April 2020 and remained elevated throughout the pandemic before returning to its pre-pandemic level of about 7% late last year. By some estimates, Americans have accumulated a record $2.7 trillion in savings since the pandemic began.
(4)
Excess demand, fueled by ample cash balances in both consumer households and businesses, appears to be a key driver of today's inflation.
Will Rate Increases Be Enough?
In our view, a low Fed interest rate, loose and easy stimulus money, higher consumer and business demand from large cash stores, supply-chain problems from deglobalization (i.e., bringing manufacturing and natural resources closer to home in response to Covid and international conflict), and geopolitical-related commodity price surges have produced the perfect storm that amplifies today's inflation pressures.
So, in spite of already slowing growth, the Fed still has little choice and needs to continue its battle against rising inflation before it becomes permanently entrenched. We expect that effort to continue at the next Fed meeting on May 3rd & 4th as nearly everyone anticipates another 0.50% increase in the Fed Funds Rate.
However, at WT Wealth Management, we anticipate a mix of policy action will be needed to combat inflation—not just rate hikes, but a reduction of the Fed's nearly $9 trillion balance sheet as well. In fact, the Fed's meeting minutes from March 15th & 16th indicated that officials "generally agreed" in the coming months it should shrink the Fed balance sheet by $95 billion per month.
(5)
Conclusion
This environment of stubborn inflation in the midst of lower GDP growth rates, at a particularly precarious time for the global economy, will likely be more detrimental to stock indices than to the aggregate economy.
At WT Wealth Management we have continued to reduce risk across our suite of investment models. These are challenging times, but as disciplined investors we all must be willing to adjust expectations and resist chasing hot areas or reflexive bounces.
As Sam Stovall, Chief Investment Strategist at CFRA Research said in a May 2nd email, "optimists frequently say: 'When life gives you lemons, make lemonade.' Since the S&P 500's peak four months ago, the index has corrected by 14%. Interestingly, there have been 23 corrections (declines of 10.0%-19.9%) since WWII, posting average drops of 14% and requiring four months to go from peak to trough. Encouragingly, the S&P 500 needed a similar average of only four months to recover all that was lost during those past corrections. While the great unknown remains as to how deep this decline will ultimately go, investors can take solace from prior corrections, and even garden-variety bear markets, that the recoveries have typically been fairly swift. So those tempted to bail out now should remember that the anguish experienced by a paper loss will be proportionally magnified by seeking shelter now and missing what has always been the inevitable recovery."
The WT Wealth Management Investment Committee has previously stated we do not see a U.S. recession in 2022, but last quarter's first GDP decline since the onset of the pandemic is a reason to pause and reflect on what lies ahead. A recession is unlikely when consumers are fully employed and spending money, in many cases, faster than they were pre-pandemic. Our canary in the coal mine will be any indications of layoffs as the economy cools. As we move further along the Fed's plan to steadily increase interest rates while shrinking their balance sheet over the next 2 years, there are considerable risks in 2023 that their plan could go too far in the effort to slow the economy.
We will all be closely following Fed commentary over the coming months in an effort to determine just how soft of a landing they will be able to engineer amid these ever-accelerating economic forces. We will use this information to best position our clients for the months ahead.
Sources