Merriam-Webster defines "outlier" as "a data point that is markedly different in value or atypical of others in a sample data set."
(1)
In the financial markets, anytime you have to go back decades to find a comparable circumstance, you know you are looking at an outlier event. 2022, so far, certainly fits that definition.
1981 was the last time we experienced inflation pressures this high and 1994 was the last time we saw a Federal Reserve as hawkish against inflation as the one we see today. Over the past 46 years we find only one other instance (in 2008) of double-digit drawdown for a traditional 60/40, equity/bond portfolio.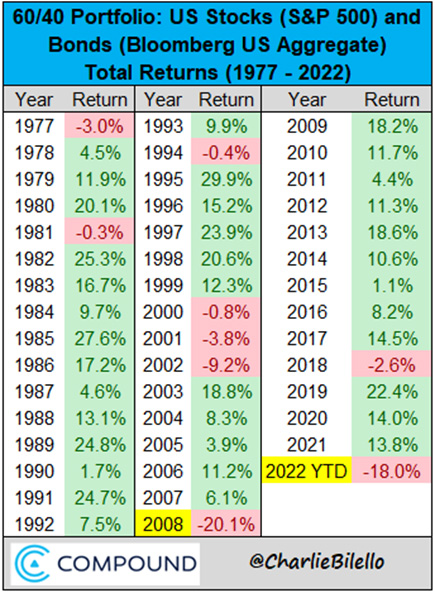 @charliebilello via twitter – June 16th 2022
But that's the good news. If you projected the above results to most investors, they would eagerly and cheerfully say, "sign me up!" For those of us already invested, this is also the reason to stay with the plan, even if we are currently in the midst of one of those outlier events.
Even the most discouraged investor should be able to find encouragement in the historical chart below, which shows that many of the weakest years in the S&P 500 have been followed by some of the best. Staying focused on longer-term 3-year and 6-year return cycles, the results are quite good.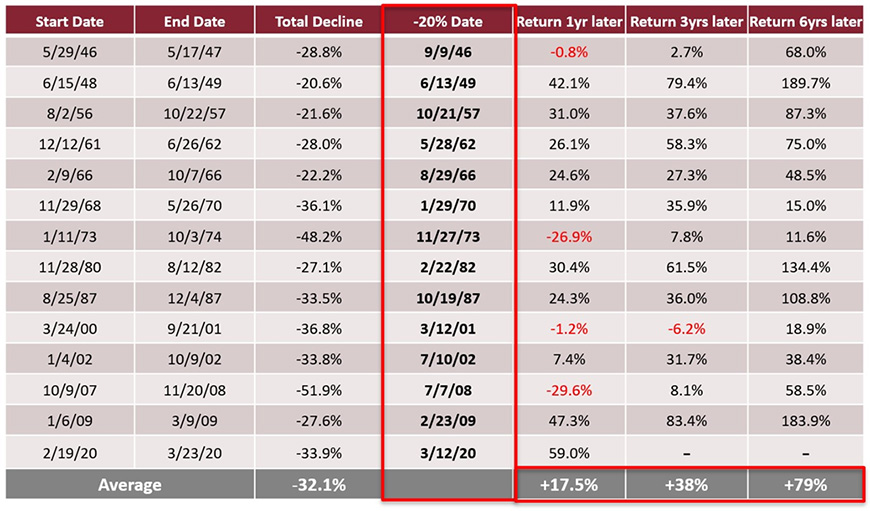 Courtesy of Lincoln Financial
The last piece of optimism I'll impart is that stocks very rarely finish at their low point for the calendar year. As you can see by the chart below, reflecting 42 years from 1980 thru 2021, even in years with measurable drawdowns stocks have showed amazing resiliency, finishing consistently above the low point for the year (100% of the time) and frequently in positive ground (83% of the time – all but 7 years).
Stocks Have Usually Risen Despite Intra-Year Corrections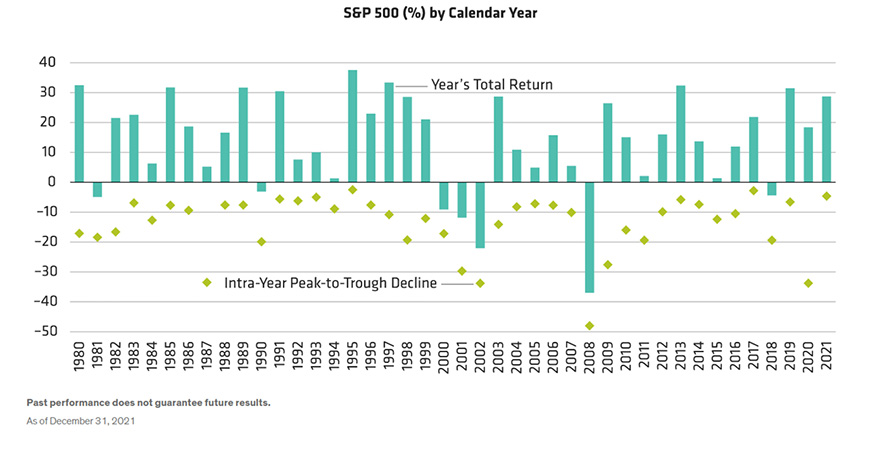 Courtesy of First Trust ETFs
Let me be clear: This article is by no means intended to be my bold prediction for a stunning reversal in the second half of 2022. The stock market is a forward-looking mechanism and it has been pricing in a recession for months. Only time will tell if it was warranted or a false flag.
Supply chain issues and inflation pressures continue to harm the psyche of the American people and that ultimately affects spending (currently the only thing that may stand between us and recession). Fortunately, spending remains quite robust; just go to a restaurant, airport or hotel and you'll see no shortage of economic activity in consumer discretionary areas.
Energy prices, inflation reports, unemployment numbers, consumer sentiment data, and of course Gross Domestic Product (GDP) are all heavily reviewed and closely analyzed by the WT Wealth Management Investment Committee and are carefully factored into the security selection and weighting in each of our investment models.
Fear is often fostered in the absence of information. We hope these facts are empowering. As we have said many times (and as the charts above show), a bad year is not going to derail any plan that has a long-term horizon.
Now is the time to talk to your advisor and make sure the current plan you have in place is aligned with your objectives for the next several years. Then rest easy, knowing that you have done your part.
Sources
Definition of Outlier
merriam-webster.com