The Consumer Price Index (CPI) eased slightly to 8.3% on an annualized basis in August, amid falling gas prices, on the heels of July's 8.5% and June's 9.1% annualized rates. While this continued the pull-back trend from a 40-year peak in June, the year-over-year decline was less than expected as Wall Street economists polled by Reuters had expected the CPI to come in at 8.1%.
(1)
Change in CPI (Year-Over-Year)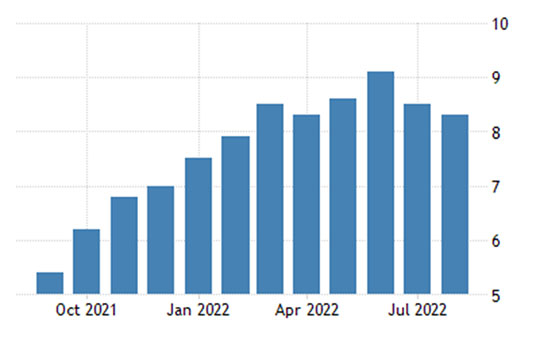 https://tradingeconomics.com/united-states/inflation-cpi
More disturbing, core CPI – the CPI basket of goods, excluding food and energy – rose 0.6% during the month of August. Economists had expected the monthly increase to match July's 0.3% rise. As a result, annualized core CPI rose to 6.3% in August from 5.9% in July, halting a recent deceleration trend from double-digit increases earlier in the year.
Change in Core CPI (Year-Over-Year)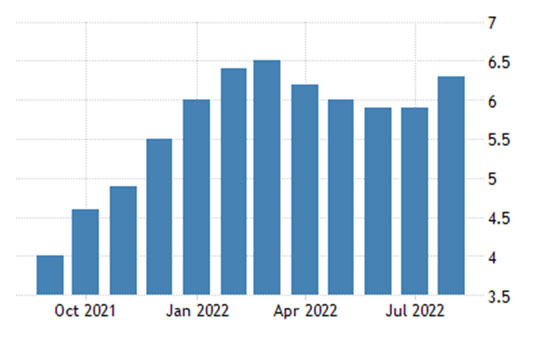 https://tradingeconomics.com/united-states/core-inflation-rate
Inflation in non-energy services prices, which affects 56% of consumer budgets, has yet to subside, rising 0.6% on the month and 6.1% from a year ago, vs 5.5% in July. The annual increase was the highest since February 1991.
(1)
How Will the Fed Respond?
Until inflation begins to ebb in non-energy services prices, which includes rent, medical services, transportation and education, the Fed will not be convinced that inflation pressures are easing, virtually cinching a big Fed rate hike next week. The Investment Committee at WT Wealth Management, and most other Fed watchers, feels an unprecedented 3rd straight 75 basis point hike on Fed Fund Futures is a foregone conclusion (maybe even a full 100 basis point hike).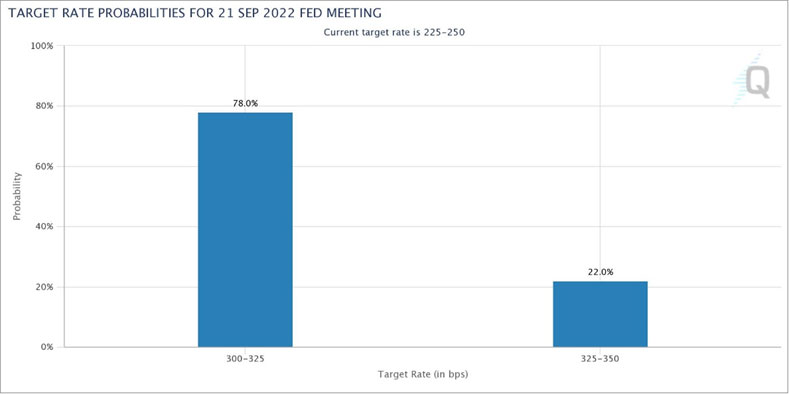 https://www.cmegroup.com/trading/interest-rates/countdown-to-fomc.html
In our opinion, Tuesday's hotter-than-expected reading on core inflation will keep pressure on the Fed. Wall Street is now pricing in a Fed Funds Rate (FFR) in a range of 4.00%-4.25% by the end of 2022 – the highest level since December 2007. Prior to Tuesday's CPI report, markets had expected the FFR to peak at 3.50%-3.75% this year. As a frame of reference, before the March 2022 Fed meeting we were at a range of 0.00%-0.25% on the FFR.
(2)
Conclusion/Trading Actions
We feel inevitable pain in the labor, housing and financial markets are unavoidable at this point. As a result, we are implementing a temporary inverse hedge position into WT Wealth Management's Culturally Significant Equities (CSE) and Target Risk Models (TRM) strategies to reduce net-exposure to the equity markets (See reference
(3)
below for an explanation of inverse ETF hedges). Equity exposure will be reduced to between 5%-30%, depending on the risk level. Although we are data dependent, we expect to maintain this position at least until the mid-term elections in November.
The Fed has no choice, inflation must be defeated. No developed economy can sustain high inflation for an extended period of time without dire consequences. In order to accomplish that objective, demand must slow and that usually means economic contraction and increased layoffs. The free money and economic stimulus from the Covid-19 pandemic has sparked economic demand and a labor shortfall that are turning out to be as difficult a "virus" to contain as Covid-19 itself.
Please reach out to your Advisor with any questions you have about the current environment and our response in your portfolios. We are always available.
Sources
Inverse ETF Definition
Investopedia.com