The U.S. dollar is the strongest it has been in decades and is showing no signs of cooling off. Given the Federal Reserve's restrictive monetary policy actions of late, the dollar's strength against most foreign currencies is likely to continue, at least into late spring of 2023. A strong dollar has major implications for multinational companies and their investors. These implications are often misunderstood and underappreciated, so we wanted to briefly clarify and explain.
The convention of referring to a currency as strong (or weak) is often misunderstood to simply mean good (or bad). The fact is that it is more nuanced. For example, a US vacationer will find a strong dollar to be a positive as it means a more affordable experience abroad as the dollar exchanges for higher value in a foreign currency. Conversely, a strong dollar could have a negative impact on earnings of a publicly traded company that generates significant revenue from foreign operations. As the dollar strengthens, foreign profits are worth less. In this instance, a strong dollar could actually be a negative for a U.S.-based investor in a multinational corporation.
A 10-year chart of the dollar index is stunning.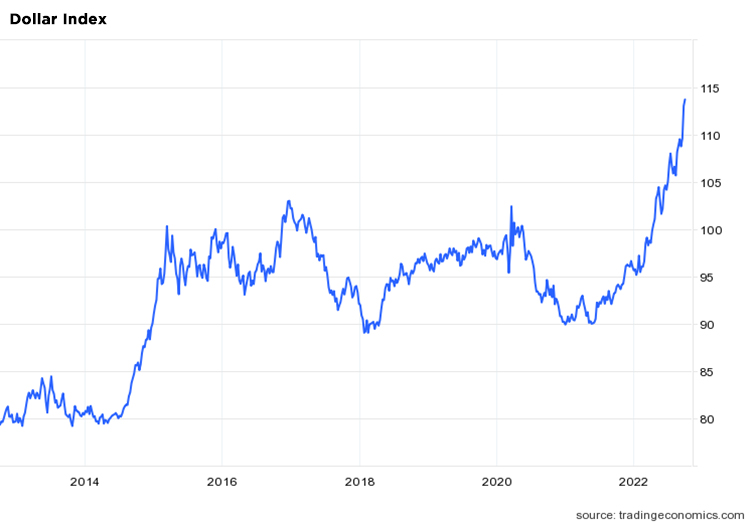 https://tradingeconomics.com/united-states/currency
Nearly all currencies have fallen against the dollar over the past several months. While currencies in emerging markets generally feel pressure when investors flock to the dollar, currencies in many of the largest most developed countries have also fallen this year. The U.S. Dollar Index (in the chart above), which measures the dollar against a basket of currencies from major trading partners such as Japan, the U.K. and the Eurozone, has mounted a steep climb this year – up more than 13%.
(1)
Adding to the dollar's strength, investors around the world have flocked to the dollar because it is a source of stability amid a world of uncertainty.
Several companies, including Meta/Facebook, Google, Microsoft, Nike, Johnson & Johnson and Proctor and Gamble, have recently highlighted the surging dollar as a factor that weighed on revenues in their second quarter results. We think these warnings and rhetoric will be worse in third quarter earnings reports which are slated to start in mid-October.
Goldman Sachs estimates that a 10% appreciation in the dollar would reduce earnings by companies in the S&P 500 by 2%-3%. Big Tech is acutely exposed to the dollar given the industry's overseas footprint. Goldman Sachs estimated that 59% of sales for tech companies in the S&P were generated outside of the US, far above the 29% average of all companies in the index.
(2)
American companies with significant foreign revenue, such as Coke
(3)
and Apple
(4)
, which generate two-thirds of their global sales from outside the US, are likely monitoring dollar exchange rates closely.
At WT Wealth Management we are taking steps to reduce investments that could see their earnings and profitability eroded by the strong dollar. In some of our strategies we have selected a developed international equity ETF that uses currency hedges to reduce the impact of the strong dollar. In other strategies, we are focusing more on companies with a higher percentage of their business done domestically as opposed to internationally. Some great examples of this are Waste Management, Costco, T Mobile, Verizon, United Healthcare, Southern Company, and Walmart. Even a company like Lululemon in the athletic-leisure space gets nearly 85% of their sales from North America
(5)
.
An easing of inflationary pressures along with improving economic growth outside the US are the catalysts needed to reverse the dollar's strengthening trend. We feel these conditions are unlikely to materialize anytime soon, creating a very challenging investing environment.
At WT Wealth Management we are doing all we can to best position our clients for the next several quarters and longer. As always, we remain prepared to act decisively on data as it appears for the best interest of our clients.
Please stay in contact with your financial advisor during these challenging times. We are here to help, explain, educate or simply be a listening ear.
Sources