We understand that this year has been challenging, disappointing and stressful for our clients. Over the past 6 years, returns within the equity markets were easy. We were all conditioned to "buy the dips" – after all, sell-offs lasted only weeks or maybe a few months back then. But from 2022, you would have to go back to 2008 to find a year that similarly tested our commitment to a long-term plan. The old Warren Buffet quote, "you don't know who's swimming naked until the tide goes out," was never more prophetic than 2022 when many investors had outsized positions in cryptocurrencies and high multiple (i.e., expensive) technology companies. Returns there had once been spectacular, but in 2022, the tide was out.
Historically, the outsized returns of the S&P 500 have been worth the risk as there were few other places where you could find 10% average annual returns. The key to that statement is "average annual". The historical average yearly return of the S&P 500 is 10.3% over the last 50 years, as of end of September 2022 (assuming dividends are reinvested).
(1)
Check out these two charts published last week from the internet blog: A Wealth of Common Sense. From 1977-1999, the annual returns of the S&P 500 were down only 3 times in 23 years on a total return basis. The market was up 20% or more in nearly half of all years and didn't have a single year that finished down double-digits.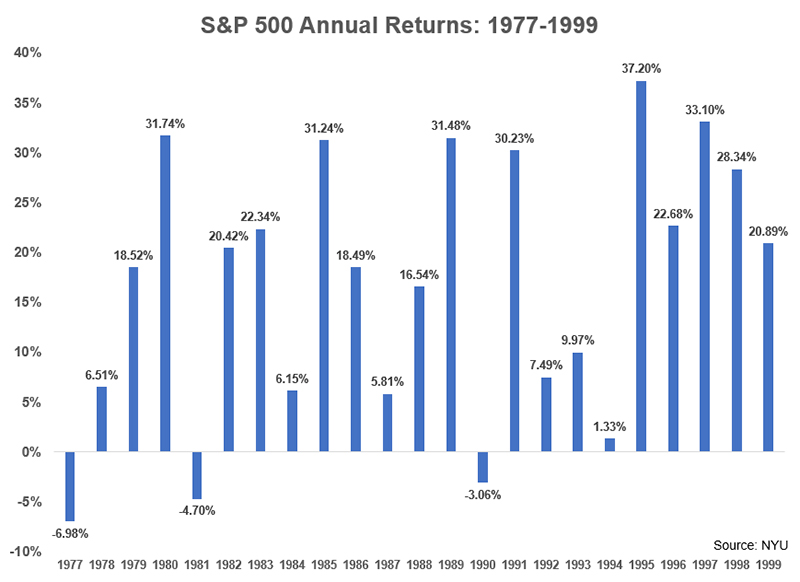 https://awealthofcommonsense.com/2022/10/could-we-see-another-lost-decade-in-the-u-s-stock-market/
Now look at the annual returns since 2000. There have been six down years (assuming 2022 still finishes lower, this chart only shows through 9/30), two of which were down more than 20%. If 2022 maintains its current lows or declines even further, that would mean three years of greater than 20% losses. During this same 23-year time period, there have been six years with gains of 20% or more.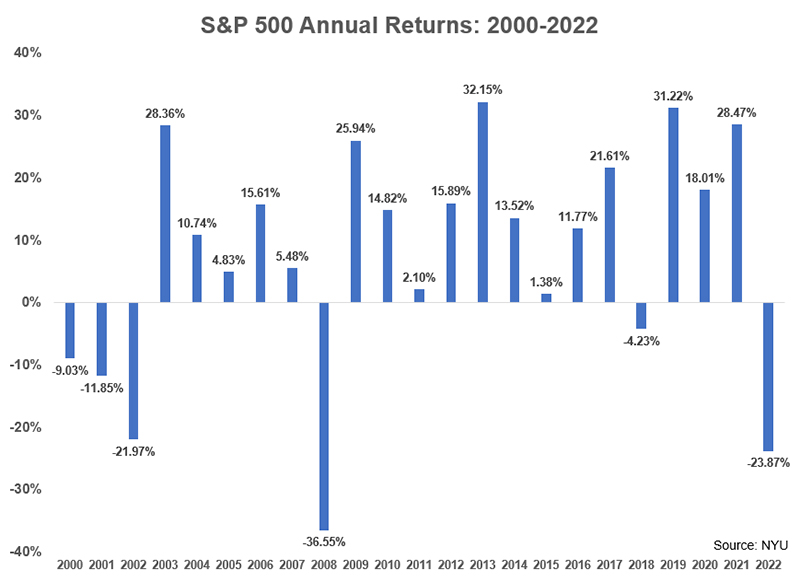 https://awealthofcommonsense.com/2022/10/could-we-see-another-lost-decade-in-the-u-s-stock-market/
As you can see, an "average" 10.3% return is actually not common at all, with only 1993 at 9.97% and 2004 at 10.75% reflecting anything close. The 50-year-average annual return comes from a blend over many years of outsized positive returns, counter-balancing negative returns, and only a very few years with something approaching an average annual return. While your long-term investment plan may assume average annual returns in the stock market, it certainly shouldn't assume average annual returns every year. Investing is a long-haul game, averaged over years. Speculation is the short-term opposite of investing.
While many investors will see nothing good out of a difficult 2022, we'd encourage you to look a little closer. The largest hurdle to most retirees over the last decade has been historically low interest rates that forced retirees into riskier investments as they sought more compelling returns. Now we see 2-year treasuries approaching 5% (just one year ago a 2-year treasury was paying only 0.5%) and corporate bonds approaching 6%. Finally, there is a real alternative for people seeking a place to invest their money other than the equity markets.
With the Federal Reserve now normalizing interest rates for the first time since 2007, retirees have the chance to de-risk portfolios and generate measurable returns from the safe side of their portfolio for the first time in 15 years. We encourage you to contact your advisor and schedule a time to review your asset allocation mix and plan for the next decade of investing.
Sources
Average Historical Stock Market Returns for S&P 500
TradeThatSwing.com