Recent reports of an impending debt ceiling crisis in Washington DC sparked a few clients to call me and ask whether this could impact their investments. My initial reaction was, "this is just noise." However, wanting to be more certain, I did several hours of research on the debt ceiling crises of the past. Following that research, I was more convinced than ever that, "this is just noise."
First Some Background
The debt ceiling limits the level of debt the Federal government can assume. Treasury Secretary Yellen warned two weeks ago that the U.S. government would hit the currently established $31.5 trillion debt ceiling in the coming days (that's $246,687 per taxpayer and $94,244 per citizen.
(1)
), after which measures would have to be taken to keep the Federal government from defaulting on its debt obligations. Increasing the debt ceiling ensures the government can continue to borrow to meet its budgeted goals. Congress last raised the debt ceiling in December of 2021, when Democrats held unified control of Congress. The chart provided below shows the most recent increase in the debt ceiling and the outstanding government debt subject to that ceiling.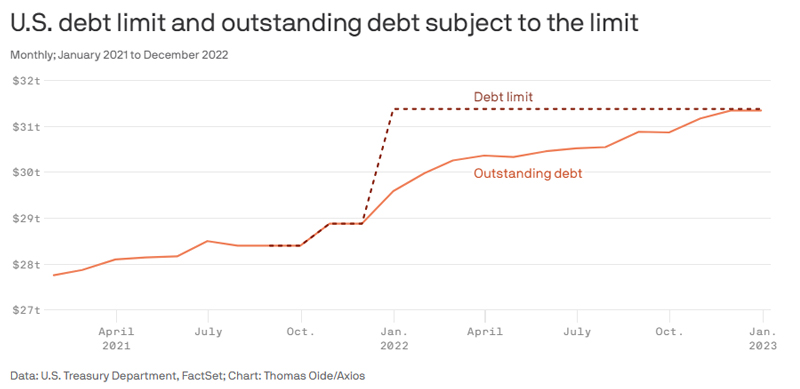 https://www.axios.com/2023/01/19/congress-debt-ceiling-extraordinary-measures
In a letter addressed to House Speaker Kevin McCarthy, Yellen said the Treasury will temporarily suspend new investments in the Civil Service Retirement & Disability Fund along with the Postal Service Retiree Health Benefits Fund from Thursday January 26th until June 5, 2023. But she warned both moves are subject to "considerable uncertainty" if Congress does not pass a bill to increase the $31.5 trillion debt ceiling.
(2)
The U.S. government has never defaulted on its debt, explained in part by kicking the can down the road with 22 increases to the debt ceiling from 1997 to 2022, according to the Government Accountability Office.
(3)
Government shutdowns occur when Congress can't get appropriations bills passed before the existing ones expire. The most recent shutdown featured a general stoppage of government services, including furloughs for federal workers, and lasted from December 22, 2018 until January 25, 2019 (35 days). This was the longest government shutdown in history.
(4)
Certain GOP lawmakers have said they want to slash spending as part of an agreement to increase the borrowing limit. These concession demands have led to concerns that Congress could have trouble reaching an agreement to raise the debt ceiling before June 2023.
How Might Equity Markets React?
In general, the equity markets react, then evaluate and then re-price. While talk of government shutdowns may lead to several days of knee-jerk market weakness, the markets tend to shrug off political news pretty quickly and then refocus on the few things that really matter: company earnings reports and forward guidance, as well as economic indicators such as individual and business spending, inflation and interest rates. We've previously used the chart below from our friends at First Trust. I like analysis that is simple and captures the past in a single picture.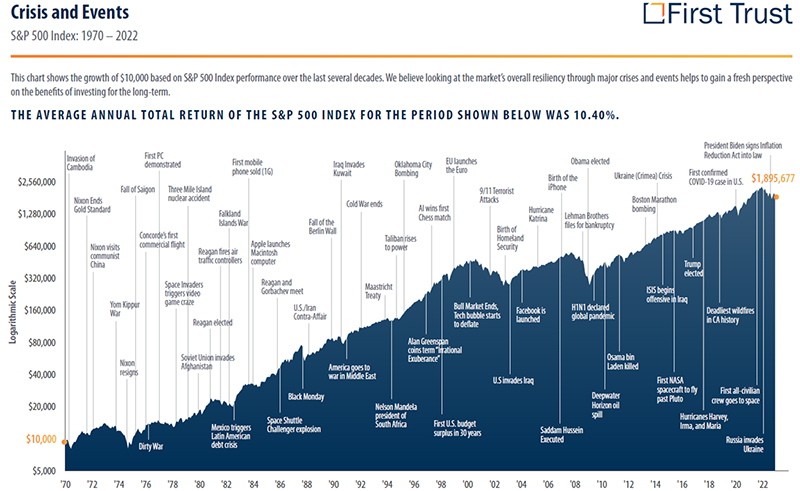 Looking back, we can see there is nearly always a political crisis going on of one kind or another. Each one has proven to be an educated buying opportunity if you have a few years to wait before expecting the reward.
Conclusion
Representatives in Washington will figure out the debt ceiling. Simply put, they have to and they always have before. The question remains how much drama, rhetoric and name calling will take place before they join hands and reach an agreement?
The investment committee at WT Wealth Management is quite confident that the debt ceiling issues facing the United States today will not determine the future direction of the equity markets. Rather, future direction will be determined more by public company performance, GDP, jobs, unemployment, and how high the Federal Reserve chooses to raise interest rates in order to bring inflation back within target.
As always, the team at WT Wealth Management loves engaged clients. Please feel free to call and talk to us about these news events and how we can position your portfolio. In the end, our goal is to help you sleep better at night.
Sources