My wife and I take Rudy on regular walks on a nearby golf course, and we often come across coyotes. The first few times this happened, Rudy thought it would be fun to chase them. Now, Rudy is a fiercely timid dog. (I once saw a cat hiss at Rudy – he responded by immediately tucking his tail, sprinting thirty yards in the opposite direction, and letting out a single bark to show who was in charge once he was safely away.) After a few tense encounters with the coyotes, he discovered that not all of them want to play, and they can be intimidating in packs.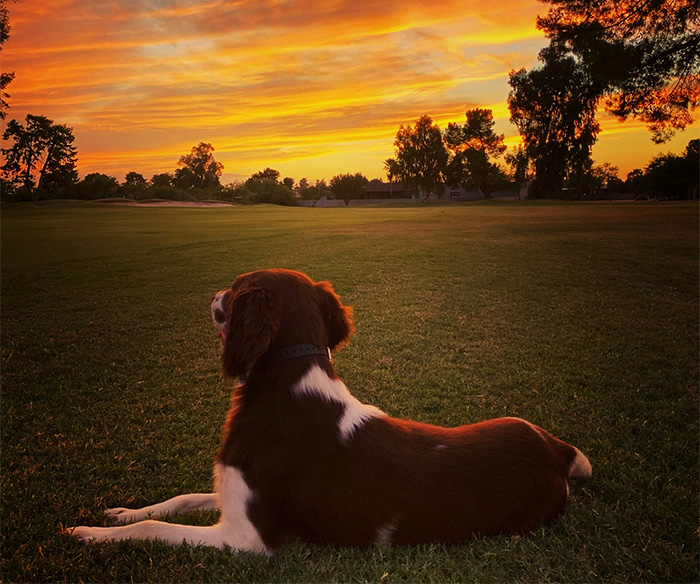 He soon learned that when he sees a coyote, the best approach is to watch it with caution and give it a wide berth.

Thinking about our walks, I have realized coyotes can be a lot like debt.
Avoid them both if possible.
Continuously scan the horizon to make sure neither is in sight.
If you encounter one or the other, keep an eye on it and actively encourage it to leave as soon as possible.
Over the years, I have been asked a lot of questions about debt. Recently, the low-interest-rate environment has fueled even more questions. Here are my answers to three common debt questions.
Should I take on debt?
This is an important question that should not be considered lightly. Using debt to invest in a home or a college education can yield long run returns and be smart investments. Beyond those items, however, if you feel like you need to take on debt to purchase something, I recommend asking yourself the following questions:



Is this a need or a want? Be honest. If this is just a want, the answer is no.
If this is a need, can you save and pay cash instead?
Can you do without this need temporarily until you save enough for the purchase?


If you decide to take on debt, minimize it. Many years ago, my wife's old car was becoming unreliable, and she needed to commute 20 miles to work. So, she took out a $1,000 car loan to buy a Honda Accord with over 100,000 miles on it. Though on a tight budget, she could have afforded a nicer car. But minimizing debt was more important to her at the time.

Also, if you can scan the horizon and plan with me to identify possible upcoming debt, such as a new car, you can start saving in advance and pay cash instead.


How do I get out of debt?
Several personal finance websites detail the best ways to get out of debt. I like, and generally agree with, Dave Ramsey and the debt snowball method.

Beyond that, I suggest:



Never keep a credit card balance. If you have credit card debt, make it your life's mission to pay it off as quickly as possible and keep it paid off.


Calculate your debt-to-income ratio with me or on your own using this calculator. If your ratio exceeds 35%, work on reducing your debt until it becomes more manageable. Living with too much debt can affect you negatively in many ways. I like to call it the good-night's-sleep ratio, and everyone wants to maximize that.



Should I invest or pay down debt? The idea here is that if the interest rate on your debt is low, it might make more sense to invest your extra funds and earn a higher return rather than pay down the debt sooner.

My first response to this question is to point out that when you pay off debt you are earning a guaranteed return. Let's say you are paying 3% interest on a car loan. If you pay off the loan and eliminate the need to pay that 3% in interest, you are saving 3%, or in other words, earning a guaranteed 3% return. The higher the interest rate you are paying on debt, the more quickly you would want to pay it off. That said, ultimately, the answer to this question depends significantly on your financial situation, your age, and your comfort level with additional risk.

A related question is whether to borrow money at a low rate and invest the proceeds in hopes of receiving a higher rate of return. There is some merit in the idea, however, there is also great risk. That's because debt payments come due on a regular basis regardless of your financial situation. Can you continue to make debt payments if you lose your job? How comfortable are you with the risk inherent in debt? Remember, you still must make the debt payments even if the markets decline.

Another important consideration is that high investment returns are not guaranteed. Historically, the financial markets have risen over long periods of time. But can you weather a year (or few years) of down markets in the short term? Can you make payments on the debt during times when you may be losing money on your investments? Sometimes, it's easier to sleep at night knowing you have less (or better yet zero) debt.
Everyday choices determine whether you will be prepared for retirement and how financially comfortable you will be when it arrives. The choices you make about debt are no exception. My advice is to take a cue from Rudy: be fiercely timid with debt. Avoid it if possible; otherwise, watch it with caution. And it never hurts to run in the opposite direction just in case!

If you would like to discuss your debt level with me, you can email me at mhaertzen@wtwealthmanagement.com or call (520) 204-1058. You can also schedule a meeting directly with me using this link: Schedule with Matt

Sincerely,




Matt Haertzen, CFA, CFP