Good advice often comes packaged in short sentences. Be generous. Respect others. Count your blessings. Never give up. Of course, there are also the great American advice idioms. Don't bite off more than you can chew. Rome wasn't built in a day. Don't count your chickens before they hatch. A bird in the hand is worth two in the bush. These are all good pieces of advice. When it comes to financial planning and investing for the future, you may have wondered if you need advice. Allow me to give you some food for thought in deciding whether you need an investment advisor.
I want to begin by saying that not everyone needs an investment advisor. If you have a simple financial situation, a disciplined approach to budgeting and spending, time to spend on researching and rebalancing your investment portfolio, a sound knowledge of investments and taxes, and the ability to make investment decisions without emotion, then I would recommend you listen to your own financial advice. That said, if you could use help in any of those areas, I would recommend you seek out a trusted advisor.
Investment advisors can help you in numerous ways. Investment advisors can give you advice in a wide variety of situations to help you achieve your financial goals, including retirement, saving for college, budgeting, giving to charity, or debt reduction. As each life stage brings different financial goals and challenges, being able to ask for advice from an expert who knows you and your unique situation can help you navigate those challenges and make smart financial decisions. Investment advisors have a complete picture of your finances and can help you plan for the future through budgeting and tax planning. Just as importantly, a financial advisor has the ability to take a step back and see the whole problem. This can help with identification of unique solutions and ideas you may not have considered on your own.
You may think that advice sounds great but wonder if you can afford it. Based on a study by Vanguard, the use of an advisor very well may pay for itself. The study found that working with an advisor helped investor returns by up to 3% annually, certainly well above the fees I charge my clients. An advisor can achieve this through building a sensible asset allocation that is appropriate for your specific situation, guiding you when you may have otherwise made a poor investment decision, and keeping fees low by guiding you to low-fee investment options. And, that 3% can really add up over the years. Let's say you invested $10,000 annually and achieved a return of 4% on your own versus 7% by using an investment advisor. As you can see in the chart, that 3% difference equates to nearly $400,000 after 30 years.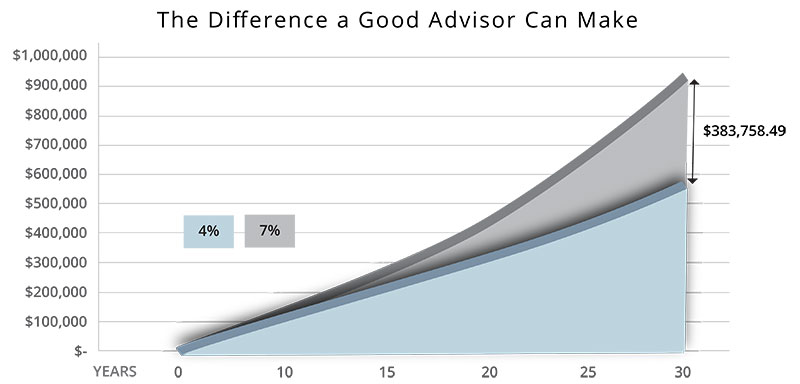 If you decide you need an investment advisor, I would recommend working with an independent advisor, which means they are not tied to any particular family of funds or investment products and allows them to choose investments with the lowest fees and overall best fit for you.
I also firmly believe that credentials matter and you should look for an advisor with a CFP or CFA. You can read more on why credentials matter in the article "
Do Credentials Matter?
" on the WT Wealth Management website. You may also want to check out this quick article on "
Why Hire a CFA® Charterholder to Manage your Wealth?
"
My advice on investment advice cannot be summed up in two or three words or a single expression. It may not be short and sweet, but hopefully it is worth much more than two cents. If you would like a no-cost consultation, you can e-mail me at
mhaertzen@wtwealthmanagement.com
or call (520) 204-1058.
Sincerely,

Matthew J. Haertzen
References:
"Vanguard Advisor's Alpha."
Vanguard Research. July 2018.
"Are Financial Advisors Worth It?"
Maranjian, Selena. The Motley Fool. 18 July 2017.
"Why Hire a CFA Charterholder to Manage your Wealth?"
CFA Institute. 2019.