Rudy and I spent a good deal of my time off this summer hiking into the mountains of Colorado in pursuit of the fisherman's dream: a rarely fished stream teeming with large, beautiful trout. On one of these hikes, I was disappointed when I arrived at the stream, eager to start casting, only to realize my fly rod had a broken tip. Another time, we came across a stream that was begging to be fished yet I had left my fly rod miles away in the car. Rudy didn't seem to mind, as his idea of a good fishing trip involves swimming through the very fishing hole in which I am about to cast my line, and he was still able to do that. I was disappointed, though, and blamed myself for not being prepared. Luckily, there were several outings on which I did bring a working fly rod, and we were both able to live the dream.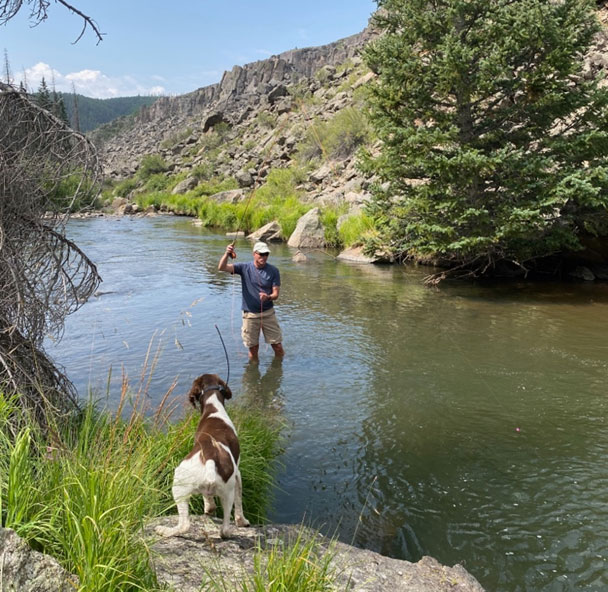 These fishing trip blunders got me thinking about the importance of preparation, not only in catching fish but also when it comes to investing and taxes. I know this is just September, but the best time for tax planning is now, when accountants have more time for tax planning meetings, and you are not busy organizing your annual tax documents so you can meet the filing deadline. Here are some things you may want to consider in your tax planning preparation. Before we start, a quick disclaimer: As I am a financial advisor and not a tax professional, please consult your accountant for specific tax advice, I know I certainly do.
You're not as rich as you think.
Maybe you've heard about the man who worked and scrimped and saved his whole life to build up a nest egg for retirement. He meets with his financial advisor and says, "I finally did it – look how much I have saved!" She looks at him with equal excitement and responds, "Congratulations – you're halfway there!" It's easy to look at that total net worth number and forget about the tax impact when you start withdrawals.
Get a head start on RMDs.
While it may be tempting to leave all your cash in retirement accounts until your seventies to allow more time to grow, you may want to consider taking some withdrawals earlier. If, for example, you are in your sixties and have not yet taken Social Security, you may be in a better position to take withdrawals at a lower tax rate.
Pay attention to your tax bracket.
For 2021, Americans will be
paying taxes
at the following seven rates: 10%, 12%, 22%, 24%, 32%, 35% and 37%. If you have traditional IRAs or 401(k) plans, you will eventually have to pay taxes on those withdrawals. Obviously, the goal is to minimize taxes by maximizing withdrawals when you are in a lower bracket. If you happen to be in the 12% or 24% bracket, be especially careful that those withdrawals do not propel you to the next highest tax bracket which is 8-10% more.
Hold the right investments in the right accounts.
It is important to consider putting different types of investments in tax-sheltered versus unsheltered accounts. A tax-sheltered account would be a Roth or traditional IRA account while an unsheltered account does not offer any tax-deferred or tax-free growth. As a general rule, you should put investments with high-growth potential but few taxable distributions such as stock index funds in unsheltered accounts. Conversely, investments that are less tax-efficient are better to hold in traditional IRAs.
Be strategic.
Consider some other strategies for lowering your tax bill:
Invest in a Roth IRA or Roth-401(k). This is particularly a good strategy for younger adults. You can also convert from a traditional IRA to a Roth so that future withdrawals are tax-free. Just be careful that the increase in taxable income doesn't put you in a significantly higher tax bracket.


In taxable accounts, look at harvesting your losses to offset gains. You can carry forward the excess losses to future years.
I'm hoping you will learn from my mishaps and are inspired to be prepared when it comes to taxes. If you are looking for a tax professional, I have an excellent recommendation for you. I have worked with her for several years and we often do tax planning meetings together during the third and fourth quarters to improve the after-tax returns for my clients. After all, it's not just the return you earn, but what you actually get to keep that matters. In the meantime, send over any recommendations for fisherman's dream spots for Rudy and me to explore.
If you would like to discuss your investment tax strategy with me, you can email me at
mhaertzen@wtwealthmanagement.com
or call
(520) 204-1058
.
You can also schedule a meeting directly with me using this link:
Schedule with Matt
Sincerely,

Matt Haertzen, CFA, CFP
References:
Know the tax rules on retirement savings
The Arizona Republic