Summer is just around the corner. Hopefully you are planning a vacation to see family or perhaps taking a long-planned trip. I know I am looking forward to getting out to golf, mountain bike and hike. One thing you may be inclined to do, especially after the recent market headlines or if you haven't taken my advice to turn off CNBC, is check your portfolio. I'm here to tell you that you may earn better returns and will certainly reduce your stress if you take a summer vacation from this as well. In fact, studies have shown a hands-off approach can not only save you time and anxiety, it can save you money.
When investors check their portfolio, they are typically looking at short-term performance (often just what is happening that day). This short-term performance can be extremely volatile. It can make you uneasy at best and cause a full-blown panic attack at worst. That's when investors tend to make mistakes like attempting to time the market.
To illustrate my point, look at the following chart. The orange line shows what the stock market (as represented by the S&P 500 Index) has done during rolling 12-month periods. The blue line shows what the market has done on an average annual basis if you stayed invested for rolling 10-year periods.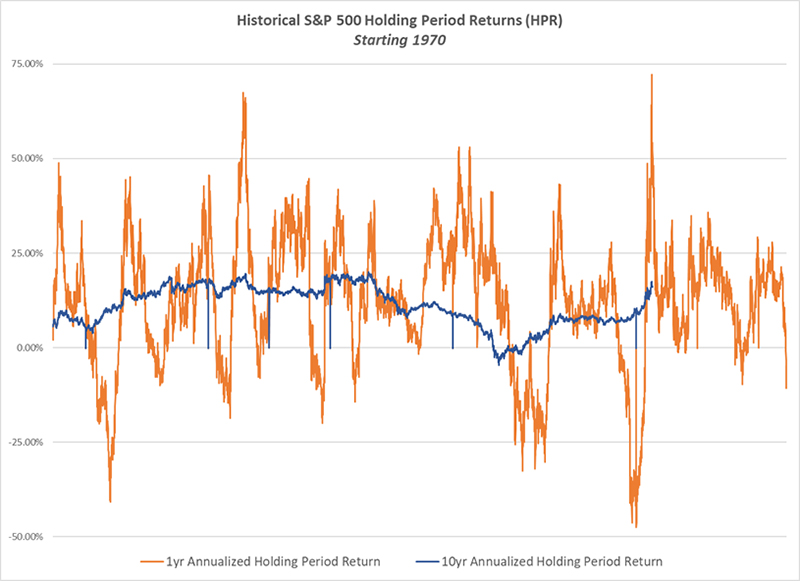 As you can see, the short-term view can be downright frightening (there are a lot of "ups and downs"). The long-term view, on the other hand looks a lot less scary. Hopefully this puts the short-term in perspective and supports the philosophy of investing for the long-term. A long-term approach is what we take at WT Wealth Management as we invest your money.
In the book
Heads I Win, Tails I Win
by Spencer Jakab (an excellent choice for summer reading), the author cites a SigFig study which says average investors check their portfolios eight times per month. According to the study, investors who check their portfolios daily earned 0.2% less per month than the average investor. This difference may not sound important to you, but it can be significant with compounding. The following table shows just how significant an impact this has on an initial investment of $100,000 assuming a 6% annual return:
| Frequency of Portfolio Monitoring | Annualized Return | 10 Years |
| --- | --- | --- |
| Eight times per month | 6.00% | $179,085 |
| Daily | 3.60% | $142,429 |
| | Difference | $36,656 |
Over a 10-year timeframe that is over $36,000 more in your pocket, simply by doing less!
In my experience, when it comes to checking your portfolio, less is more. I would recommend you do it just once or twice a year when we meet to review your financial situation. For now, I wish you safe travels and fun adventures this summer. Enjoy the parades, picnics, and popsicles, free to ignore your portfolio knowing of course that we are watching it closely for you.
If you have questions, you can e-mail me at
mhaertzen@wtwealthmanagement.com
or call
(520) 204-1058
.
Sincerely,

Matthew J. Haertzen
References:
Jakab, Spencer
Heads I Win, Tails I Win:
Why Smart Investors Fail and How to Tilt the Odds in Your Favor.
2016