"Diversification," "compound returns," and "bond yields"... are a few phrases you may have heard from the world of finance. These fundamental concepts are critical to successful investing. Yet, they are simply the application of basic math principles. This "Simple Math for Successful Investing" series aims to demystify the complex world of investing by using simple math concepts anyone can understand.
Our first installment will review the concept of "compound returns", uncovering some results that may surprise you!
What would happen if you invested $100 in a stock that returned 5% on Day 1, then lost 5% on Day 2? Your initial response to this question may be that you would have $100 again, right back to where you started. Surprisingly, the "obvious" answer is wrong. Let's do the math:
Day 1:
$100 x 5% = $5.00. Add that to your initial $100, and you have $105.
Day 2:
$105 x -5% = -$5.25. Subtract that from your $105 from Day 1 and you have $99.75.
As you can see, you actually end up with less than where you started.
Now, let's look at the reverse where you lost 5% on Day 1, then the market gained 5% on Day 2:
Day 1:
$100 - $100 x 5% = $95.00
Day 2:
$95 + $95 x 5% = $99.75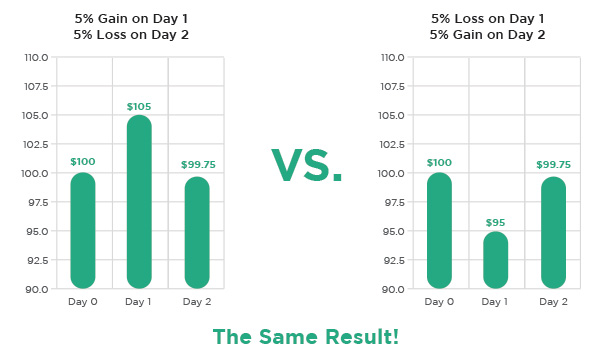 This is no coincidence, as it is a mathematical property of compounding returns.
First, notice that the order of returns does not matter. You can lose or gain 5% in subsequent days in any order and at the end of Day 2 you will have the same value.
Second, notice that the impact of the negative return on the investment value is greater than the impact of the positive return. This can be stated in two equivalent (but important) ways.
Positive returns can be eroded by negative returns that are less than the initial gain. A 5.00% gain on Day 1 can be fully reversed by only a 4.76% loss on Day 2.


Once losses are incurred, it takes a higher return to break-even. A 5.00% loss on Day 1 requires a return of 5.26% to break-even.
Now, hopefully, when you hear us talk about our investment strategies focusing on "limiting losses," offering "downside protection," or "reducing drawdowns," you will know both how it works and why it's important! Keeping an eye on compounding returns is one of the ways your investment team at WT Wealth Management works to keep your best interests in mind.
To learn more about limiting losses and other key investment philosophies we employ to help you achieve your financial goals, please visit our
website
or reach out to your financial advisor.
Stay tuned for next month's installment, which will review diversification. Not "putting all your eggs in one basket" actually is just an application of simple math!