Special Market Update - October
A new S&P 500 sector is set to debut:
Here's what you need to know


U.S. investors just witnessed something that's hasn't been seen in decades: the creation of an entirely new sector within the S&P 500 - Communication Services.

On Friday, September 28 we witnessed the launch of the S&P Communication Services sector, a reshuffling of major industry groups that will impact some of the most widely followed and traded names on Wall Street.

The new sector will include companies that are currently in three different industry groups:

Telecommunications (including Dow components AT&T Inc. and Verizon Communications);


Technology (with Facebook Inc. and Google-parent Alphabet Inc. among the most high-profile names moving); and


Consumer Discretionary (Walt Disney Co. and Netflix Inc. are among the stocks making the shift).
The new Communication Services sector includes companies that facilitate communication operations, as well as ones that deliver content and information through various media. The move was seen as a way to address how the primary business of different companies often spans multiple sector categories and doesn't always reflect their current industry classification.

Ultimately, the new Communication Services sector will better reflect the rapidly changing way the world's population communicates. This change will result in a more cyclical, lower yielding sector in contrast to the high yield, defensive posture of the current telecom group.

While the Real Estate sector was introduced in 2016 with the components spun out of the financial sector, this marks the first time that a new industry group will be created in this fashion. Many Wall Street veterans called the realignment "unprecedented" in market history.

Since it was announced months ago, many exchange-traded funds (ETFs) and other sector-based strategies have already adjusted their holdings to track the new sectors.

While the change may not show up in the movements of major indexes, it will substantially change the market's makeup. The new sector will account for nearly 10% of the S&P 500's market capitalization, according to early interpreted data. The weighting of the Technology sector will drop from about 26% of the overall market to 21%, though it will remain the single biggest influence. The Consumer Discretionary sector will drop to 10% from roughly 13%.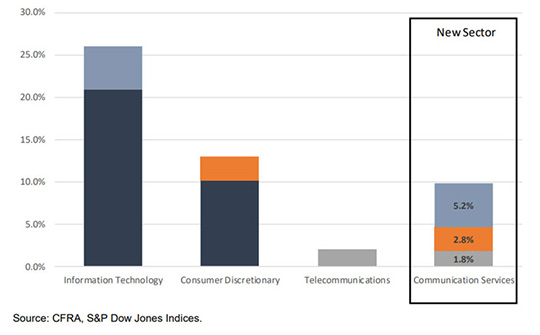 The realignment will mean that each of the three impacted sectors will become more concentrated in terms of individual stocks. This could increase the volatility of these sectors if the biggest stocks see large moves and swamp the influence of smaller stocks.

Facebook and Alphabet - which have a combined market capitalization of nearly $1.3 trillion - will together account for 45% of the weighting of the Communication Services sector. Separately, the removal of Netflix and Disney, among other stocks, from the Consumer Discretionary sector will increase the influence of Amazon.com, which will now account for 32% of the weight of that sector.

The changes could also alter how many view the existing sectors. While Tele-Communications has historically been considered a defensive group - meaning it tends to have growth that is lower than the overall market, but is more stable - the new additions are seen as cyclical growth stocks. Recently, the Telecommunications sector offered a dividend yield of 5.4%, well above the 1.75% offered by the S&P 500. The yield of the Communication Services sector will be 1.7%, making it less attractive to income-seeking investors and more in-line with the broad market.

By including Netflix, Facebook, and Alphabet, the Communication Services sector will house three of the five so-called FAANG stocks. This quintet of stocks, that also includes Amazon and Apple, has fueled much of the market's gain over the past several years. As a result, the historical performance of the Communication Services sector would have been quite strong.

The major indexes and the people that organize them are finally acknowledging that the way the world communicates is changing. At WT Wealth Management we have been telling that story for years. The world is changing fast beneath our feet, we are excited that the rest of the crowd is finally realizing that.

Click here to view our Disclosure