You're [almost] at Retirement's Door. Now What?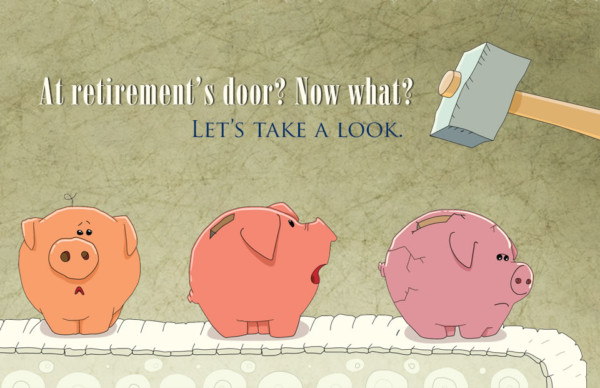 Your focus has been on saving for retirement. You're almost "there" at retirement's door. Now what? Let's take a look.

In June 2017, Fidelity Viewpoints published an article on how to make your savings last. It's a lengthy article, backed by in-depth research and a conservative approach, arriving at a 90% of the time best guess. It all boiled down to this:

Three piggy banks on a treadmill awaiting the hammer to break them"Focus on the potential sustainable withdrawal rate of 25 years or more

"Withdraw no more than 4% to 5% from savings the first year of retirement; adjust for inflation every year."

So, do the math. What do you have saved for retirement today? Take 4% of it. If that amount is a supplement to other forms of income, including IRA, Roth IRA, company 401 (K), or a 20-year retirement package, factor that in. Can you live on that income?

If the number isn't something that jives with your current lifestyle, are you ready to make lifestyle changes to accommodate it?

If none of this is leaving you with what you feel you "need" (vs. "want") in retirement, the conclusion is simple. You can't retire yet. You'll have to find something else to bring in the income to meet that financial need or to allow your level of want.

Fidelity offers an interactive tool to familiarize yourself with the potential trade-offs involved in retirement income planning. It is worth a moment to go through it. Will your numbers be what you want them to be as you arrive at retirement's door?

WT Wealth Management approaches investment with a foundation built on diversification. We build our portfolios knowing from our experience and from historical data that this is how to build your financial future at a sustainable withdrawal rate.

If you are already with WT Wealth Management, we've been discussing this on a regular basis, and we have probably run an analysis of your specific financial circumstance. We are in this with you to help you arrive at that retirement threshold comfortably.

If you are looking for investment advisors who can help you make your retirement experience a good one, give us a call for your free consultation today: (928) 225-2474.