Over the next several weeks, if you read the Wall Street Journal or tune into CNBC, you will hear a lot of talk about "earnings season". Earnings seasons refers to the periods of the year during which most quarterly corporate earnings are released to the public. Earnings season begins the month following quarter-end (i.e. January, April, July, and October).
Corporate earnings are an important part of understanding how a company is performing. Companies have 45 days from the end of their fiscal quarter to file their financial information with the Securities and Exchange Commission.
(1)
The information released during earnings season can offer specific details about a company, trends in various industries and, more broadly, the health of the overall economy. As the data is released, investors compare it with analyst estimates which often generates trade volume and corresponding price movement as the market adjusts to the new information. In this advanced technological age, price adjustments happen almost instantaneously as algorithms can be programmed to react to earnings releases and even content from earnings calls.
Earnings season is the busiest time of the year for those who intently watch the markets, as every large publicly traded company will report the results of the previous quarter. Analysts, traders and investment managers typically set their expectations for revenues and earnings over the next quarter or upcoming year. In the simplest terms, revenues are what the cash register rings and earnings are what end up in your pocket after expenses). As a result, the financials reported by companies during earnings season often have a significant impact on the "short-term" performance of their stocks.
On the day earnings results are reported, investor relations teams will set up earnings calls, where any investor can dial in and listen to the executive team describe the company's results for that quarter. Most publicly listed companies host earnings calls, though smaller companies with minimal investor interest may be exceptions.
Topics generally covered during earnings calls include a discussion of financial performance, any management changes, changes in corporate governance, legal involvement, industry changes, and more. Some of the typical topics include employee headcount, hiring/layoffs, gross/net margins, shrinkage, same/new store sales, average ticket price, how much was generated online vs. brick and mortar, etc.
Earnings season boils down to how expectations match up with reality. If a company's results beat or miss analysts' expectations or commentary from management surprises market participants, its stock may experience wild price swings as investors scramble to buy or sell the stock to reflect updated expectations and guidance.
Even if you don't own shares of companies reporting results, you may still see fluctuations in your portfolio during earnings season. An earnings release from a major industry player will affect its own stock price as well as have a potential ripple effect on other companies in its sector and even the broader market. This can be very frustrating when you own Walmart, for example, and it goes down in price because of something Target or Kroger reported. However, these contagion effects tend to be short-lived.
Analyst estimates for individual companies also offer clues about the future trajectory of the broader stock market. Analyst estimates of earnings are aggregated for benchmarks like the S&P 500. As companies in this index release results during earnings season, professional investors may revise their expectations for where the S&P 500 as a whole is headed.
While it is important to recognize that earnings season can be volatile, smart investors avoid making long-term investment decisions based on short-term results. In fact, sometimes after an "earnings miss" companies can be bought 10, 15 or even 25% lower on the day after the earnings report. I always like to remind our team that the market sells, evaluates and then acts intelligently. Sometimes buying a great company the day after an earnings miss is a way to buy a solid company on "sale".
At WT Wealth Management we feel that diligently following earnings season allows us to be better informed investors. Below is a summary calendar of some of the companies that we will be closely watching during the Q4 2023 earnings season.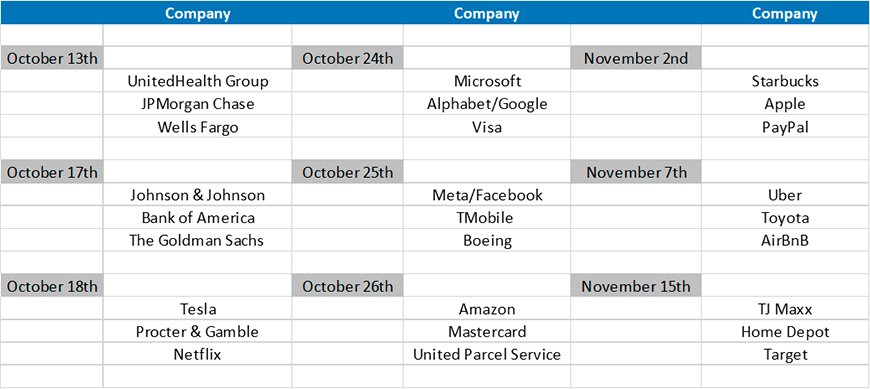 www.zacks.com/earnings/earnings-calendar
Our Investment Committee will spend the next several weeks reading, watching and listening to earnings releases from hundreds of individual companies, which we will analyze from the individual equity, industry, sector, factor and thematic perspective. We believe this is our duty to you, our clients, so that we are armed with the information necessary to make intelligent investment decisions for the benefit of your portfolio.
Sources