I went on one of my favorite hikes to Navajo Lake with Rudy and Suzi last year. It was mid-summer and mid-morning, just as the sun was warming the air and a hatch had started on the lake. I cast my fly line out with an orange Rubber Leg Stimulator (one of Suzi's homemade dry flies). It floated for two seconds and then bam! – a beautiful cutthroat trout hit it. I set the hook and landed (and released) the fish. Few things in life are perfect, but this, for me, was a perfect day and the perfect fish.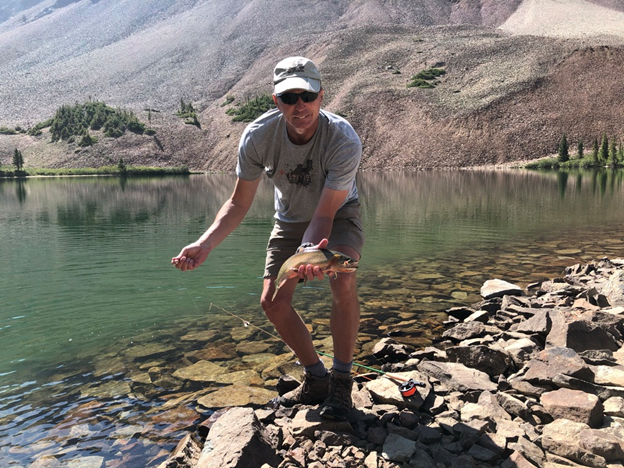 Of course, none of us is perfect when it comes to investing. We all make mistakes, but it may help us approach perfection to consider the characteristics of a perfect investor. Having recently celebrated Mother's Day, allow me to introduce Patricia, a hypothetical perfect investor (who just happens to share the name of my perfect mother). Patricia represents the perfect investor because she unfailingly exhibits all the following characteristics.
Patient:
Warren Buffet said it best: "The stock market is a device for transferring money from the impatient to the patient." Patricia is patient which is important because successful investing depends on a long-term outlook. Patience allows her to weather the ups and downs of the market when others may impatiently trade in and out.
Consistent:
Patricia understands the power of compounding and reliably contributes as much as possible (targeting at least 15% of income) to her retirement accounts. By doing this, Patricia utilizes the time she has in the market to grow her assets.
Realistic:
Patricia is realistic in her expectations for returns on her portfolio. She knows that her returns are based on her risk tolerance and that her returns may differ from other investors. She does not chase shiny objects (hot stocks) in hopes of getting extremely high returns.
Focused:
Patricia recognizes she cannot control everything when it comes to investing but focuses on the things she can control: consistent contributions, portfolio diversification, minimizing fees, sound investing strategy, staying invested and meeting with her advisor regularly to make sure she is on track with her investments. She is also focused on her clearly defined goals. Patricia has a vision for her retirement and has built a plan to make that vision a reality.
Unemotional:
Patricia does not allow her emotions to play a role in her investing strategy. She does not "like" a particular stock or fund more than another except to the extent that it is a practical investment and provides a solid return. She also does not get fearful in a bear market or greedy in a bull market. Patricia understands the market will rise and fall and does not let those fluctuations influence her investing strategy.
Informed:
Patricia understands her investment strategy and is aware of her portfolio holdings. She also has both an accountability partner and a qualified, ethical, fiduciary financial advisor (
see my article on the importance of investment advice
). Patricia leverages both those relationships to help her make smart financial decisions and be informed on her portfolio performance.
Maybe you already exhibit these characteristics. More likely, as the rest of us, you must regularly work to improve. Nobody is the perfect investor, but recognizing what perfection looks like gives us a target to shoot for. And, as they say, practice makes perfect.
If you would like to discuss improving your investment approach with me, you can e-mail me at
mhaertzen@wtwealthmanagement.com
or call
(520) 204-1058
. You can also schedule a meeting directly with me using this link:
Schedule with Matt
Sincerely,

Matt Haertzen, CFA, CFP